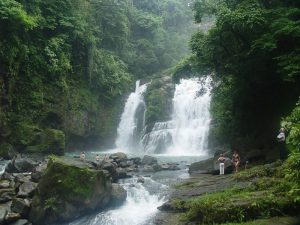 Along the Barú river in the little town of Dominical, the main entrance to scenic Costa Ballena, you will find the beautiful eco-lodge Villas Río Mar. Fifty-two comfortable rooms divided into thirteen private bungalows, strategically spaced throughout a lovely garden, makes this a very unique hotel. Villas Rio Mar is the perfect place to relax by the pool, enjoy excellent food in the hotel restaurant, shoot some pool in the activity center or walk the few blocks to Dominical Beach to view the sunset.
If you are looking to stay physically active on your holiday, Villas Río Mar offers many tours and sports activities. A tennis court and miniature golf course are located on the hotel premises and of course, the nearby Pacific Ocean offers surfing, beach combing or playing in the waves. In addition, there are numerous attractions a short drive away, such as popular Manuel Antonio National Park and stunning Marino Ballena National Park, where Scarlet Macaws nest in the trees. From the hotel you can make full-day tours to ecologically diverse Corcovado National Park or Caño Island Biological Reserve, a snorkeling and diving paradise.
One of the most popular activities Villas Río Mar offers is a horseback riding tour to the Nauyaca Waterfall. For nature lovers, this tour is a must as it offers the opportunity to see many varieties of Costa Rican flora and fauna. Covering twelve kilometers through the jungle, you arrive at the falls where guests can enjoy a swim in the refreshing waters. Included is a delicious breakfast and lunch at a Tico home.
After strenuous exercise guests can relax with a treatment in the hotel spa, which offers massages, body scrubs and wraps, facials, manicures, pedicures, all using only the finest organic products.
One of the highlights of Villas Río Mar is their emphasis on sustainable tourism, a commitment to preserve and protect the natural environment in which they are located, which is evident throughout the property. The hotel has been awarded four of a possible five "leaves" by the Costa Rican Tourism Board, a high level of recognition for their environmental efforts.
For a delightful visit to the Southern Zone of Costa Rica, Villas Río Mar in Dominical is definitely the place to stay for comfort, tropical beauty and a peaceful, relaxing vacation.
By: Sophie den Breejen, a guest from Holland.
The Costa Rica News (TCRN)