In 2011, a boy named Hassam Wave accomplished one of his best goals in life: He attained the bronze medal in the Special Olympics events celebrated in Panama. Today, he brought in another story because his goals don't seem to hit the wall, instead, the boy looks unstoppable, winning awards despite his disabilities, showing the world that disabilities don't mean shackles for good.
From athletics to the tennis court
Hassam Wave started his career in athletics. His dedication to this sport led him to his first medal, a bronze one obtained in Panama 6 years ago. After that accomplishment, he began to become interested in another discipline totally different from the one he had been practicing for years; he was then eager to practice tennis.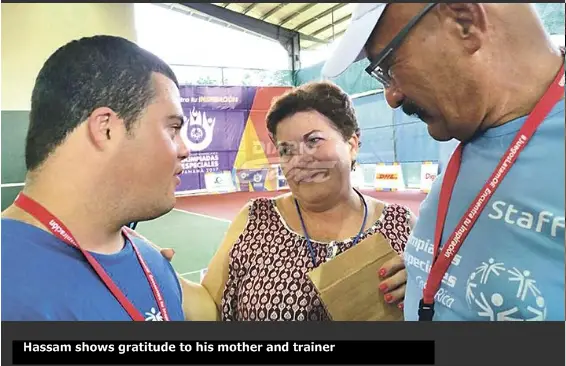 The first person to know Hassam's new interest was his mom. She immediately backed him up and encouraged him to go ahead with this new adventure.
His sudden preference for tennis began when he happened to see somebody play this sport. He just got bitten by the tennis bug and let his relatives know about the decision. He made up his mind to switch from athletics (his childhood's sport) to tennis (his new road). After having taken that important decision, he applied himself to tennis by going to the practice sessions on a regular basis.
Fruits from dedication
Recently, all his efforts for succeeding in his new road reaped fruits when in the Latin American Special Olympics he won another medal, which he celebrated shedding tears of emotion.
"I'm very excited and happy. I dedicate this medal to all my family and country" – the 21-year-old boy said.
The pride of his mom
His mother Eva shared this special moment with him, hugging him and patting on his back with tears coming from her eyes.
"Hassam is an excellent athlete because he obtains everything that pops into his head. I'm proud of him" – his mother Eva exclaimed.
Called up at the last minute
His personal trainer Carlos Mora said that at first Hassam wasn't going to participate in the recent Special Olympics edition but that he was chosen at the last minute because the other boys of the team refused to compete.
"Hassam didn't know he was going to participate in the competition but once he learned it, he didn't hesitate to get set for the challenge. He started to train with me, and well, this is the outcome of all the effort he made during that short period of time, so this bronze medal is like a gold one" – Carlos Mora said.
It was not easy
Mora also pointed out that at the beginning of the training, it was sort of difficult for Hassam to follow instructions but he adapted and he somehow could muddle through successfully. Hassam was really hard to understand some orders like: 'hit the ball', 'go for it', 'and be faster', but Hassam was able to go through the training process in spite of all the difficulties.
Hassam, the multifaceted sportsman
Wave is the youngest of 5 brothers and is the only one who suffers from Down syndrome. Apart from this, he works in a veterinary company organizing envelopes and stamps.
"My son is a great human being, he's hardworking, he's very obliging, and I have to admit he's always on the ball, very active" – his mother said.
Hassam is not only a hardworking boy; he's also an altar body and fond of karaoke. He often has a blast singing and chanting rancheras (Mexican songs).
Regardless of the result after each match, he proudly exhibits the flag of his country, Costa Rica, on his back. He's undoubtedly the pride of Buenos Aires de Puntarenas.