Nosara: Paradise Unleashed
Welcome to the haven you've been dreaming of – Nosara, Costa Rica's best-kept secret. It's the antidote to the ordinary, a place that tosses the mundane aside. Here, life means simple living, vibrant vibes, and nature's warm embrace. Get ready to get lost in lush jungles, ride waves of adventure, and forge connections that matter. Nosara is more than a destination; it's a haven where the thrill of exploration meets the authenticity of life, creating an experience like no other – especially at Sendero, one of the hottest luxury surf locations on Costa Rica's Pacific coast!
Sendero: The Real Deal
Hold onto your hats because Sendero Hotel is about to blow your mind. This boutique hotel pulses with Costa Rica's heart and soul. Picture sleek vibes, tones that chill your senses, and a touch of earthy wonder. Step into one of 25 slick rooms that let Nosara's magic take center stage. Because here's the thing – life is all about the vibes, and Sendero gets it better than anyone.
Chill Digs for Your Scene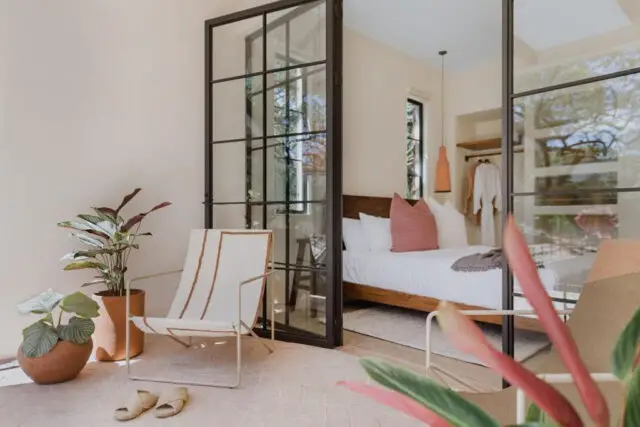 At Sendero, they're not just providing rooms – they're crafting experiences tailored to your vibe. Suites are your escape to space, offering a haven with a king bed and a lounge where a sweet queen pull-out awaits your lazy moments. Craving a wild adventure in the jungle? The Jungle Rooms are your jackpot – king beds, views that stretch for days, and an outdoor paradise that beckons. Seeking your zen on a balcony? The King Rooms are your throne, overlooking a jungle playground that whispers serenity. And surf enthusiasts, the Queen Rooms by the pool are your sweet spot – snug, functional, and dripping with style.
Pura Vida: Live It, Breathe It
Welcome to the Pura Vida way of life in Nosara. It's all about those zen moments, adrenaline-pumping ocean thrills, and chats that light up your world. Quench your thirst with pipa, the beloved coconut water, and soak in the chilled vibes that envelop you. Bike through trails that lead to adventure, ride the waves that echo your heartbeat, and savor every moment of living in the now.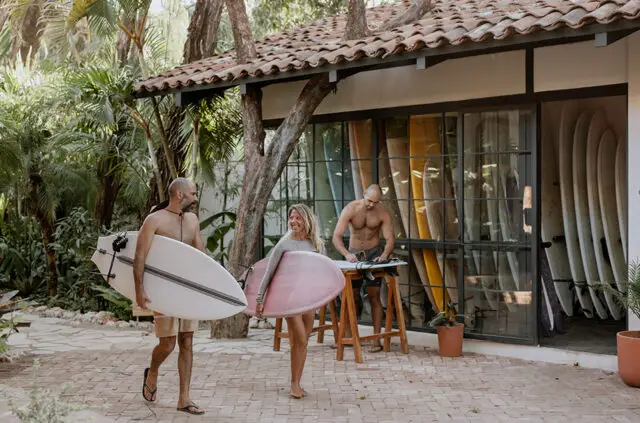 Guiones Beach: Zen Central
Meet Guiones Beach – nature's masterpiece that spans an awe-inspiring 5 miles. Thanks to the Turtle Refuge vibes, this oasis remains untouched by intrusive buildings. Surfers, this is your playground. Swimmers, dive into the crystal-clear waters. Families, explore the hidden treasures of tide pools. And when the sun dips below the horizon, the beach transforms into a canvas of breathtaking hues that redefine beauty.
Zen Mastered
In Nosara, balance isn't just a concept – it's a way of life. Whether it's yoga, meditation, or pilates, the town has dialed in on the art of harmony. Feel your mind realign, your body recharge, and your spirit reawaken as you tap into the essence of zen.
Work Hard, Play Harder: Outpost Unleashed
Balance becomes second nature at Sendero. Discover the seamless synergy between Sendero and its sister property, Outpost, both masterpieces created by the same pioneering team. This partnership unveils the ultimate dual experience of productivity and adventure. Pursue your passions and ambitions amidst Sendero's vibrant backdrop.
Private offices and meeting rooms are ready to cater to your needs, providing a dynamic workspace that fuels your aspirations. This is work reimagined – an immersive blend that keeps the essence of Pura Vida alive.
For an exhilarating glimpse into the Outpost and its unique offerings, take a look at their website and get ready to redefine your work-play balance!
A Culinary Adventure, Costa Rican Style
Sendero's dining scene is an explosion of flavors ready to ignite your taste buds. Dive into the local vibes, savor dishes that redefine epic, and let the Costa Rican coffee ignite your senses. And after you've conquered the waves, swap your board for a spot at the Apres surf bar. Here, cocktails, street bites, and tunes create a symphony that resonates with the vibrant Nosara community.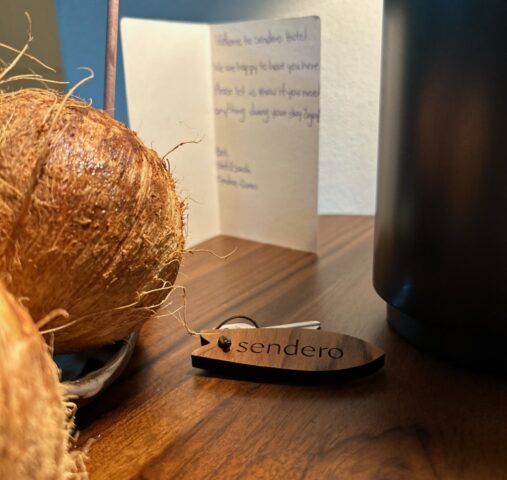 Unleash Luxury, Embrace Nature's Warmth
Sendero isn't just a place to stay; it's a sanctuary where the comfort of home blends with the luxuries of vacation. It's your gateway to Pura Vida, where every wave you ride, every adventure you conquer, and every moment you savor feels like second nature. Ready to roll? Your journey begins at Sendero – where the raw beauty of nature and the intoxicating vibes of Costa Rica collide, creating a style that's uniquely yours.