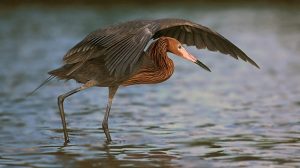 The Costa Rica News (TCRN) – The magic of Isla del Coco National Park never stops and the Ornithological Association of Costa Rica has recently discovered a number of new bird species to add to the list of records maintained in this sector.
Among the species found is a new type of heron called the Reddish Egret (Egretta rufescens), the Kelp Gull, and the bird Empidonax minimus , known as Chebec. According Geiner Golfín, administrator of the national park, these findings were generated in the last two months.
"The local wildlife and birds that come to the island is monitored. Monitoring the birds is part of the job for biologists and rangers. When we see something and it's not normal, we have the task of creating that record," said Golfín, who participated in the sightings.
Golfín said that in the case of Isla del Coco are trying to national park officials to expand their knowledge in other areas, such as observation of other species of plants that may be new and relevant.
Over the past year, on the island the presence of a new type of mollusk was also recorded, which was discovered by researcher Jeffrey Sibaja, an official of the University of Costa Rica (UCR), who was later awarded the prize Twas- Conicit.
The species was named "Caecum cocoense" which was located by the researcher and other collaborators of Sibaja during a visit to the park.
The Costa Rica News (TCRN)
San Jose Costa Rica