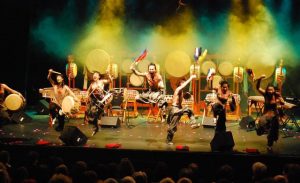 Art and culture will hit the streets of Santa Ana and Ciudad Colon starting this Friday with the opening of the National Arts Festival (FNA).
The official ceremony, which involves the President Laura Chinchilla, is scheduled for April 5 at 7:00 pm in Central Park Ciudad Colón.
The shows "Central America in Marimbas: Fraternal Chords" and the music of the Fab Mama will welcome the FNA.
For ten days you and your family are invited to visit these cantons to enjoy a varied artistic.
Children are the first to experience art as the art group Yoruva present the children's play "Treasure Hunt" on stage in Ciudad Colón. At 2:00 pm there will be storytelling of the "Tales of this and the other side" with Alejandro Tosatti, and an hour later in the Columbus City's Central Park will present the "Puppets of Prague".
At 5:00 pm is shift the "Art in the sand" projection folk group "Memories" and at 6:00 pm will present "Theatre of my other lives."
On Saturday and Sunday activities will start at 10:00 am.
The FNA will conclude on April 14.
The Costa Rica News (TCRN)
San Jose Costa Rica