Henriette Jacobsen, TheCostaRicaNews.com.
Beauty pageants are extremely popular in Costa Rica, especially Miss Costa Rica, which will be on Teletica's Channel 7 this Friday. But what exactly is it that makes the show so popular?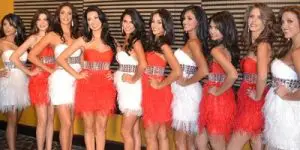 On Friday evening, ten women age 18-27 will take part in Costa Rica's most popular beauty pageant with hopes of winning the prestigious title, Miss Costa Rica, and being crowned the nation's number one beauty queen. Teletica, which is a private TV station in Costa Rica, has been broadcasting the contest since 1974. Last year, one fifth of Costa Rica's four million people tuned in to watch the show, and Gabriela Alfaro, advertising and publicity manager at Teletica, hopes to have a similar number of viewers this year.
On the night of the competition, the candidates will strut down the catwalk modeling first a tight dress (traje ajustado), then a silk evening gown, and at last a strapless cocktail dress with a skirt made of feathers in red or white. According to Teletica's homepage, the aim for the women is to show their beauty and talent of mastering the runway; Teletica promises a dramatic night of fashion, glamour and entertainment.
José Carlos Chinchilla is Professor of Sociology at the National University of Costa Rica and has followed the development of beauty pageants in Costa Rica throughout the years. He says there are numerous reasons why so many Costa Ricans will be glued to their TV screens Friday evening. First and foremost:
"People don't have better things to do (than to watch the show). They don't have many choices."  Teletica is a private TV station, however, it's Channel 7 is part of the basic access package, which means that it is accessible to most people around the country.
"Family event" for hometowns and popstars
Teletica also spends a lot of money on commercial spots and advertisements in newspapers. Chinchilla says the TV station tries to build up an atmosphere of excitement surrounding the competition for weeks and sometimes months before the show.
"People will discuss who's going to win and maybe make bets. Will it be María or Marta who wins?"
According to Chinchilla, it has become a traditional family event to sit and watch Miss Costa Rica. He describes it as an interactive show because people discuss what they are watching while it happens as opposed to their normal habits of just sitting in front of their TV in silence.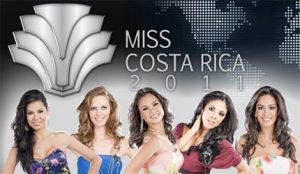 "The show is also about national identity; 'this is what we think is beautiful.' And Costa Ricans are beautiful," Chinchilla says, adding that the program engages the whole nation and touches people. The women represent their hometowns and the viewer gets to see the hometown of every contestant. If the woman is from a small town, the whole town will be enthusiastically watching their fellow townsman, Chinchilla explains. Famous Costa Rican celebrities such as popstars and actors will appear on the show to make it even more glamorous and sensational. The superstars will accompany the contestants and ask them questions while judges evaluate their answers. This is a feature which has recently been introduced on the show. In general, people in Costa Rica think it's great that Miss Costa Rica isn't just about the women's physical appearances anymore. However, the show has been criticized of being demeaning to women because an alternative show with male contestants still doesn't exist.
"Feminist groups think the show still isn't any good. The bottom line is that these women are objects on this show," the Professor of Sociology says.
The winner of Miss Costa Rica will go on to represent her country in another beauty contest, the international competition, Miss Universe, as well as having many other duties and jobs. Like European royalty, she will cut silk ropes and inaugurate new buildings, and shine light on organizations that help disabled people or children in need. However, Chinchilla states that the winner will never have any status of power. He usually watches the show in excitement, but can't remember last year's winner.
"I don't think people really look up to her. They tend to quickly forget about her. This is more about the show than the winner. She's not that important," Chinchilla says.
Miss Costa Rica is on Teletica's Channel 7, Friday March 25th at 8 pm.