"Nayara Tented Camp", the luxury tent complex that will open its doors on December 20th, 2019, in La Fortuna de San Carlos. Since it is part of Nayara Resorts, it also becomes the only one in Costa Rica to be accepted as a new member of the Leading Hotels of the World.
After an initial inspection of the project, an interview and analysis process of approximately 2 months, by the executive directors of Leading Hotels of the World, this week they received the great news.
The Leading Hotels of the World is a consortium that brings together more than 400 luxury hotels in 80 countries of the world, offering varied styles of design and architecture and different experiences, to those travelers looking to discover new adventures.
Therefore, the details of the design and construction of Nayara Tented Camp, its amenities, its sustainability characteristics, the services, and the attention plus the experience it will provide to the guest, were definitively key to being accepted.
Constanza Navarro, director of Marketing and Sales of Nayara Resort, says that having been accepted is a kind of recognition of the product and destination. In addition, it is very important at the country level because it continues to position Costa Rica as a high-quality country for the luxury travel segment.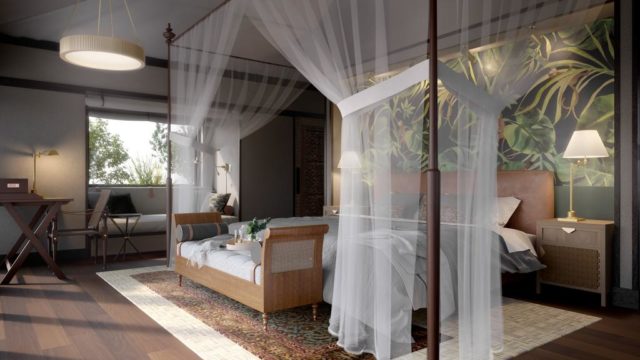 "Guests of Nayara Tented Camp can enjoy the experience of staying in a luxury safari tent, immersed in a virgin tropical jungle, surrounded by plants and wildlife, with an impressive view of the Arenal Volcano. Each store has its own natural hot spring pool", added Navarro. The project will also have an area of ​​natural hot spring pools exclusive to Nayara Tented Camp.
A natural sanctuary
One of the greatest values ​​and attractions of this project is that thanks to the reforestation of "Guarumo" trees (food source of sloths) that Nayara Resorts has made in recent years, as part of its commitment to sustainability, it managed to create a sanctuary that shelters more than 15 sloths.
These, together with the natural beauty that Nayara Tented Camp involves, can be appreciated and enjoyed in a very special way since each tour will be guided by highly trained naturalists. The guides will make the guests live experience by accompanying them on the bird watching hikes in the morning, on the tour of the sloths' sanctuary and on the night observation of frogs.
"Nayara Tented Camp has a unique concept and provides an unparalleled experience that did not exist in Costa Rica; so that is the importance of being recognized and today being part of Leading Hotels of the World. It puts us on the radar of tourists who are looking for different experiences of luxury and quality", concluded Navarro.