The Costa Rica News (TCRN) – With well over 300 listed beaches in Costa Rica, this small country has become world renowned as a place that delivers an authentic tropical beach lifestyle. For those looking for this pace of life, comparing beachfront and "near" beach opportunities are important considerations. While there are many pros and cons, having a beach home or a near-beach home is really a matter of personal choice and working within your budget.
Beach home and property prices in Costa Rica can be quite astronomical – renting or buying – so many have discovered the benefits of near-beach living as a viable and smart alternative.
Living right on the beach has its good points and bad points. Apart from price, one major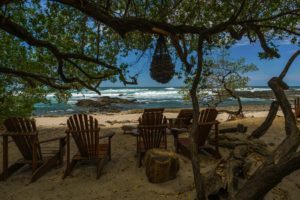 consideration is that beaches in Costa Rica are subject to public domain and maritime laws. This means that you will not have control of the actual beach that your property borders. Even if you buy a beach border property in a relatively secluded region, this can soon change and you could find yourself dealing with throngs of beach lovers. Tourists and vacationers come with lots of noise and even more unpleasant aspects like garbage.
In terms of maritime laws (which can change), you can also find yourself restricted by municipal laws that enforce regulations on structure limitations as well as proximity and structure heights, to name a few.
The largest factor is the price. When you compare a 1,250 m2 lot with direct beach front access to a 5,000 m2 lot that is located 10 to 12 minutes from the beach using an average benchmark for each property type ($120/m2 for beachfront lots versus $14/m2 for near-beach lots), you can quickly judge value and savings potential.
| | | | |
| --- | --- | --- | --- |
| Beachfront Lot | 1,250 m2 | $120/m2 | $150,000 USD |
| Near Beach Lot | 5,000 m2 | $14/m2 | $70,000 USD |
Near-beach real estate has more than just budget going for it. These properties often offer a wider range of access and activities than beachfront living, such as mountain hiking and bike trails, private bio-reserves, and higher elevations with ocean views and lower humidity, which reduces electric bills. Additionally, these properties and
An aerial view of Mistico Country Club shows just how close to the ocean it is,
communities tend to have river frontage, with clean, fresh water.
In general, it should also be noted that near-beach properties deliver more privacy than beachfront houses. Communities right on the water are typically more populated and rarely come with large lots.
It's certainly the right time to buy near-beach property, especially in the Central Pacific where the next hot beach country clubs are being developed. Beachfront property prices generally start at $250/m2 for a 1,000 m2 (1/4 acre) lot and have high maintenance/HOA fees versus $14/m2 for 5,000 m2 (1.24 acres). With a $5,000 membership these popular clubs allow you to enjoy all the amenities and services of the rich and famous without the luxury price tag.
It's clear that near-beach properties give you a bigger bang for your buck, as well as more recreation and entertainment alternatives.
When buying Costa Rica real estate, void common pitfalls and problems by working with a buyer's agent. Representation is key to managing the risks associated with overseas real estate since your biggest advantage is local know-how and networking.
For more information on buying beachfront and near-beach properties, contact us!
[gravityform id="1″ name="Contact Form" title="false"][gravityform id="1″ name="Contact Form" title="false"]
The Costa Rica News (TCRN)
San Jose, Costa Rica