Flying into Guanacaste Costa Rica has become a more enjoyable experience for visitors since the new terminal at the Daniel Oduber International Airport in Liberia began operating in January. The $68 million expansion of the Liberia airport became necessary due to the constant growth of tourism to the northwest province of Guanacaste.
The new terminal, which can accommodate about 1500 passengers during peak hours, is considered the best secondary facility in all Central America and the second major airport in Costa Rica.
In addition, Daniel Oduber International Airport has been recently called one of the newest coolest airport terminals in the world by Travel and Leisure Magazine.
The magazine lists the new and improved airport terminals around the world that upgrade travelers' airport experience for the 21st century.
The article discusses terminal elements such as the use of new technologies as well as the incorporation of local design elements and vendors that contribute to making travelers' experience at airports better.
According to Travel and Leisure Magazine, one of the convenient aspects of Liberia's new terminal is that it provides easy access to Tamarindo Beach, the Nicoya Peninsula, and nearby national parks.
Since the opening of the terminal, several airlines have expended and included direct flights into Liberia, which allows visitors to book a flight on a major airline and explore the ecological charms of the northwest region of Costa Rica.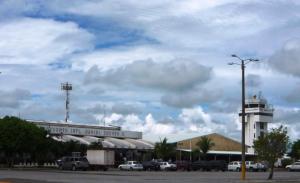 The article also mentions Daniel Oduber International Airport's commitment to sustainability, as planners have installed several energy-saving features. For example, "at check-in, passengers are cooled by Big Ass Fans (the proper name, believe it or not) rather than air conditioners."
Travel and Leisure magazine also praised the new terminal for ditching the assigned ticket counters. Instead, any airline can operate at any ticket space or gate location using pioneering common-use terminal equipment by logging on at the workstation—a technology spreading to airports worldwide.
Among the airlines that fly into and out of Liberia's airport are: Air Berlin, Air Transat, American Airlines, Delta Air Lines, Frontier Airlines, Jazz Air, JetBlue, Nature Air (domestic), United Airlines, US Airways, Sansa (domestic), Sunwing, Sun Country, Thomas Cook, and Taca.
"Forward-thinking city and airport officials worldwide understand that investing in infrastructure lures more tourists, and at least some are taking action to introduce new terminals, overhaul old ones—or, as in Doha, reclaim a piece of land and start an airport from scratch. A common goal is to improve passenger flow and efficiency, while considering aesthetics, sustainability, and the needs of today's jet-setters," says Travel and Leisure Magazine.
The article also mentions Sacramento's International Airport Terminal B, Atlanta Hartsfield-Jackson International Terminal (the busiest in the world), Winnipeg Richardson International Airport in Canada and New Doha International Airport in Qatar, among others.
To read the full article visit: http://www.travelandleisure.com/slideshows/coolest-new-airport-terminals/1
The Costa Rica News (TCRN)
San Jose Costa Rica