By Steve Drumm
Kim Jong-nam, the half brother of North Korean leader Kim Jong-un, was attacked by two unidentified women at Kuala Lumpur International Airport in Malaysia two weeks ago, on Monday, February 13.
TIP: Get our latest content by joining our newsletter. Don't miss out on news that matter in Costa Rica. Click here.
They stabbed him with needles containing poison before fleeing the scene of the crime, according to international media.
Kim Jong-nam was 45 years old when he died en route to a local medical facility. The two women were later believed to be North Korean agents, according to both South Korean and U.S. intelligence sources.
On Wednesday, February 15 authorities arrested a woman believed to be linked to the assassination. It is widely believed that the hit job was carried out as the result of an order emanating from Pyongyang, the capital of North Korea.
Obviously, such an order would have been authorized by North Korean dictator Kim Jong-un.
Kim Jong-nam was the oldest son of the late Kim Jong-il and his mistress, a North Korean actress. Kim Jong-il sent him out of North Korea to grow up abroad. In fact, Kim Jong-nam spent a large part of his childhood being tutored at home by his mom's older sister. Such things happened due to Kim Jong-il´s desire to conceal the fact that he was his father, since he was born out of wedlock.
Nevertheless, Kim Jong-nam was originally expected to take the place of Kim Jong-il as the North Korean leader after the later passed away. However, Kim Jong-il changed his mind in 2001 after Kim Jong-nam got caught attempting to enter Japan with a fake passport from the Dominican Republic. Kim Jong-nam said that his motive for going to Japan was to take his son to the Tokyo Disneyland in an incognito fashion.
Kim Jong-nam spent his life primarily residing in three countries, namely Macau (an island belonging to China), Singapore, and Malaysia. Kim Jong-nam also spent a significant amount of his life in Beijing, Moscow, Geneva, and Paris.
His perpetual wandering was largely driven by his fear of being assassinated. This was partially due to the fact that Kim Jong-nam openly criticized Kim Jong-un, saying that his half-brother was too young and ill prepared to become the North Korean leader. He once told Japanese journalists that he forecast that the regime of his half-brother would fail.
He had also spoken out against the human rights violations that have been orchestrated by both his father Kim Jong-il and his half-brother Kim Jong-un in North Korea.
Kim Jong-nam was noticeably absent from his father´s funeral in 2011, and it is widely believed that Kim Jong-un ordered the assassination of his half-brother immediately upon taking power after the death of his father.
Kim Jong-un has an extensive track record of killing anybody around him whom he views as a threat to his power in any way. This includes senior party leaders, senior military officers, ex-girlfriends, and even family members. In fact, since assuming power more than five years ago, Kim Jong-un has ordered the executions of more than 140 senior military officials and party leaders who he viewed as being a threat to his power (this statistic has been reported by the Institute for National Security Strategy, a research group that is associated with the South´s National Intelligence Service).
Kim Jong-un also ordered the execution of his uncle, Jang Song Thack, who was North Korean´s second-in-command at the time he was executed in 2013 per Kim Jong-un´s orders.
Jang was believed to have been close to his nephew Kim Jong-nam as well as to China´s capital Beijing, and he had been a proponent of North Korea adopting major economic  reforms. Some people have speculated that the Chinese government was protecting Kim Jong-nam for the purpose of having someone they liked to put into power in the event that Kim Jong-un's regime folded.
This belief is propelled by the fact that like his Uncle Jang, Kim Jong-nam was also widely believed to have strong ties to Beijing´s elite. Some people believe that the reason why Kim Jong-nam was assassinated now is because Kim Jong-un believed that a bold move from his half-brother was imminent, one that would put the well-being of his regime and/or family in jeopardy.
It has also been speculated that Kim Jong-nams´s assassination may have been partially motivated by Kim Jong-un´s desire to send a loud message to all North Korean expatriates that his regime has the power to bump off any North Korean expatriates who dare to publicly oppose his regime.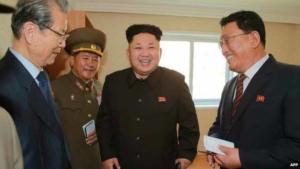 One may ask why the assassination took place in Malaysia, since Kim Jong-nam moves around so much. There have been rumors that Kim Jong-nam had moved to Malaysia around five years ago, which have been fueled by his frequent appearances in the nation's capital Kuala Lumpur during that time span.
Many people believe that Jong-nam had split his time during the past five years or so between Macau and Malaysia. It has also been widely reported that he had arrived in Malaysia from Macau a week prior to his death (on February 6). Many believe that the combination of Kim Jong-nam's greater protections in Macau coupled with a greater North Korean espionage presence in Malaysia are the primary reasons the hit was ordered to take place in Malaysia.
Some people now have safety concerns for Kim Jong-nam´s 21 year old son Kim Han Sol, who has previously expressed comments that were critical of his Uncle Kim Jong-un. And finally, it should be noted that some people have speculated that Kim Jong-un´s overzealousness to kill off so many people could backfire on him and make it even more likely that he himself will be assassinated or at least overthrown.
SOURCES:  YOUNG TURKS, NEW YORK TIMES, WIKIPEDIA, STRAITS TIMES