Great business opportunity, located in the heart of San Ramon, Kuko's Bar has been in operation for 15 years and is a major meeting place for the local Tico's and expats. Key lease opportunity with everything included. [More description below]
San Ramon Costa Rica Real Estate Commercial Business
TIP: Get our latest content by joining our newsletter. Don't miss out on news that matter in Costa Rica. Click here.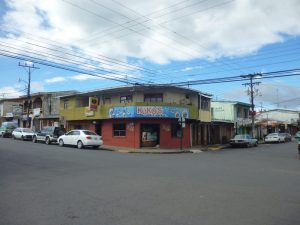 Floors:
 
2
 
Construction:
 
78 m2
 
Bathrooms
 
2
 
Apartment
 
1 bedroom
 
Apt. Bathrooms
 
1
 
Lease Price:
 
$40,000/5 yrs
 
Rent:
 
$950 USD
 
Property Type:
 
Commercial/Income Property
 
 
[nggallery id=56]
(Click to enlarge images)
Key Lease Business Opportuntiy in San Ramon Costa Rica
Corner location ½ blocks from the provincial bus station and 1 block from the local bus station, this bar is right in the middle of town of the busiest areas of central San Ramon.
This Cantina bar has been in operation for 15 years straight and is known throughout the community as the local meeting place for fun and entertainment.
The second floor includes a 1 bedroom apartment with its own bath and kitchen, living area.
The key lease is for 5 years for $40,000 USD and includes so everything; furniture, kitchen, sound system, TV's, etc.
Rent is $950 USD per month for the entire building.
This an excellent business opportunity in on of Costa Rica's fastest growing ares.
Category: Costa Rica Real Estate >> Costa Rica Property >> San Ramon Real Estate >> Commercial Property
Contact us for more information on Costa Rica Real Estate and one of our Experts will be glad to assist you.
[gravityform id="1″]
The Costa Rica News (TCRN)
San Jose Costa Rica
For Information on San Ramon Real Estate Opportunities >> SanRamon-Properties.com