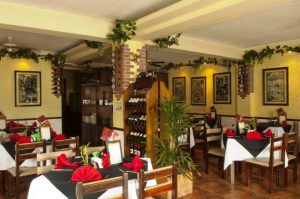 When trying to describe Italian restaurants in Costa Rica, authentic, traditional and outstanding fit very few, but not so with Il Padrino.
Located in Rohrmoser, just west of the new stadium (Estadio) on Pavas Boulevard, Il Padrino attracts both a local and foreign clientele. There are many loyal return customers and as we said they are a mix and the reason for the menu to be in 3 languages, English, Spanish and Italian.
TIP: Get updates on upcoming Costa Rican Retreats & Events by joining our newsletter. Don't miss out on what's happening around you! Click here.
Il Padrino has been in business for 6 years and it is becoming so popular that reservations are recommended for both lunch and dinner. It is not for the food alone, but also the ambience. Owners Luca and Vincenzo want you to feel like you are dining in Italy and from comments from their diners, they do just that!
Il Padrino is a warm environment and caters to both a romantic but also social atmosphere. The white table clothes with a partial black cover and red napkins really enhance the décor. The walls are tastefully decorated with art works and the
back of the restaurant presents an open service bar, where premium brands of liquors are in full view.
The wine list is extensive, featuring of course Italian wines, and the wine racks are in full view in the center of the restaurant fitting in with the warm, relaxing atmosphere, and at the same time creating separation in the room so you feel like you are dining in privacy.
The 3 language menu is very extensive and there is something for everyone; an assortment of Appetizers, Hand Made Italian pizza with a variety of creative and delicious toppings, Salads, Pasta and full entrees.
Some of the recommended dishes and the real taste of Italy are Frutti Di Mare, a seafood pasta, need we say more; Insalata Di  Polipo & Patate, this is an Octopus Salad with Potato and if you didn't know, Octopus is served almost once a day in traditional Italian Households; then there is there the melt in your mouth Filetto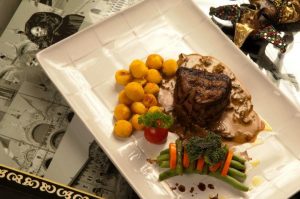 Ai Funghi Porcini, beef loin in a porcini mushroom sauce; and to add to all this, there is always  momma's favorite, Polpette ai 4 formaggi, meat balls in a 4 cheese sauce. No great meal is complete without trying Tiramisu, made in-house this is one of or the most traditional of Italian desserts. Some ingredients include ladyfinger biscuits, espresso coffee, marsala wine, and a good portion of mascarpone cheese.
Open 7 days a week, average cost of a great meal at Il Padrino is about $20 or 10,000 colones, but if you feel like staying home and enjoying great Italian Food, they also offer Express or Home Delivery.
Oh yes, they also appreciate you reading this article so when you are in San Jose and decide to come eat at Il Padrino simply say; "Il Padrino Sent Me" and you will be treated to a free appetizer of tasty Bruschetta.
Come visit our website at: www.ilpadrinocr.com