One of the criteria and/or scenarios that generate the most fear or unknowns, once the impact of the coronavirus begins to decrease, is that of travel. In particular, the one related to air transport, considering the high flow of passengers from different origin destinations that converge at airport stations, considered high risk with regard to the circulation of the virus.
Indeed, as a purpose to "save" the industry and guarantee the safety of both workers in the industry and passengers, the International Air Transport Association (IATA) has been entrusted with the elaboration of a new protocol for the world of post-coronavirus travel.
TIP: Get our latest content by joining our newsletter. Don't miss out on news that matter in Costa Rica. Click here.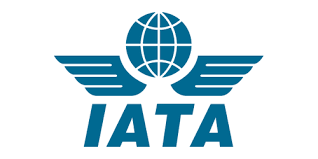 According to what has been reported, it is a first version of the "road map to safely restart aviation". This new operation to be adopted for passengers presents instances before, during, and after their flight and passing through the airport.
Here are some of the main changes to consider, from the pandemic on:
Before going to the airport
-Passenger information. It will be more exhaustive than usual, more details of the person's contact information will be collected, it can also be used later for tracking purposes. Whenever possible, the data should be completed in electronic form and before the person arrives at the airport.
During the stay at the airport
-Temperature control. This action would be implemented at the entry points to the airport terminal and should be carried out by trained personnel, capable of deciding whether a passenger is fit to fly or not.
-Physical distance. It must be implemented in accordance with local rules and regulations, but IATA recommends a distance of one to two meters apart. To comply with this point, the disposition of the flow of passengers in the terminal and in the checkpoints and migrations must be reorganized.
-Protection. Passenger masks and protective gear are recommended for airline and airport personnel.
-Cleaning. Airlines, airports, and governments should coordinate efforts to ensure that equipment and infrastructure are disinfected frequently. This also applies to cars, sliding doors, self-service terminals, etc.
-Tests. Although IATA points out that there are still no fast and absolutely reliable tests, it recommends their use. In the event that this technology is advanced, they could be applied to passengers at the terminal entrance.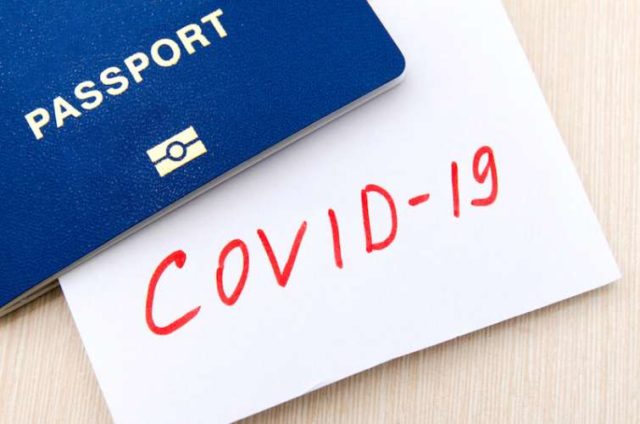 –Immunity passports. If a passenger can document that they were infected with Covid-19 and that they recovered, they could be exempted from some protection measures such as the obligation to wear face masks or temperature controls. In any case, IATA points out that this will depend on science obtaining conclusive results regarding the immunity generated after the Covid-19 infection.
-Check-in. Passengers must complete most of the check-in process before arriving at the airport and will be able to board showing tickets on their mobile devices or printed at home.
-Baggage dispatch. Airline personnel should guide passengers so they can clear their baggage themselves, minimizing human interaction and object manipulation.
-Shipment. An orderly process will be necessary to ensure physical distance. For this, the current processes should be reviewed and, possibly, the spaces next to the boarding gates could be redesigned.
On the plane
According to IATA, the risk of transmission of Covid-19 from one passenger to another during a flight is very low due to the arrangement of the seats, the use of HEPA filters, and the direction of the air flow on board. As additional protection, it recommends the use of face masks for passengers. He considers that it will not be necessary to add the physical distance on board that would imply, for example, leaving free seats.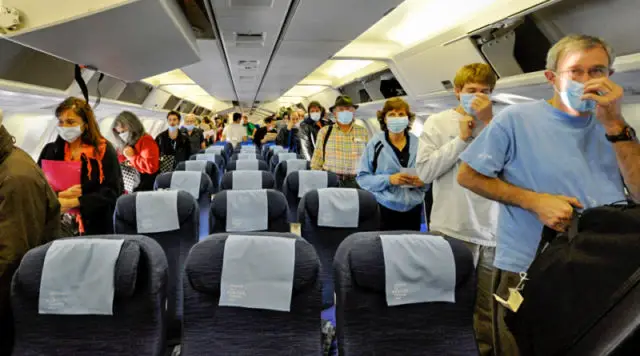 The cabin crew will also adjust its protocols (how to serve food and drinks, among other things) and will offer disinfecting wipes to passengers to clean their spaces.
At the destination airport
-Disembarkation. When getting off the plane, the temperature of the passengers will be controlled with trained personnel, who can deal with the possibility of a sick passenger.
-Border and customs control. Governments should consider electronic affidavit options (mobile apps and QR codes) to minimize person-to-person contact. It is suggested that governments "simplify the formalities of border control" to replace physical processes with virtual ones (passport reading, facial recognition, etc.). In addition, lane layout will need to be reconfigured and officers trained to detect signs of infected passengers.
-Baggage collection. Every effort should be made to provide prompt service and ensure that passengers are not required to wait too long in the baggage claim area and are able to keep their distance.
-Passengers in transit. Cooperation between countries is key to be able to take as valid the control instances carried out at the airport of origin and avoid repeating them entirely on subsequent stops.