Costa Rica is home to countless gems of the natural world, and the Monteverde Cloud Forest Reserve is no exception to the rule. Visitors ascend the mountain and encounter cool, misty forests awash with multicolored birds and countless other species – some of which can't be seen anywhere else in the world. If you're planning a trip to Costa Rica, this is one area you don't want to miss during your visit.
Establishing the Reserve: Quakers in Costa Rica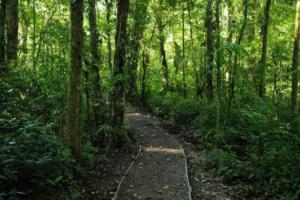 In part, we have the Quakers to thank for their commitment to the land of Costa Rica – especially the still-pristine cloud forest. In the 1950s, a faction of environmentally-conscious American Quakers fled the country to avoid being drafted. They settled and began raising dairy cows in the area, preserving at least one-third of their land as watershed. Quaker cheese production retains its stronghold in the region, but a large portion of the cloud forest remained untouched until the 1970s.
In 1972, local farming began to encroach into forested lands. George Powell, a visiting scientist conducting doctoral research, formed a partnership with a local resident named Wildford Guidon, to create a nature preserve. What began as a small protected area of 328 hectares eventually bloomed into a total of 10,500 hectares under federal protection and supported by the Tropical Science Center, a non-government organization.
Where Do the Clouds Come From?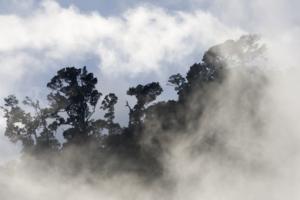 In English, monteverde means "green mountain," and thanks to the Quakers, Guidon and the Powells, the area has stayed that way. But what makes the cloud forest so special? It's not quite the same as a lowland rain forest, which features high temperatures and humidity. Monteverde's location at high altitude along the continental divide produces a special type of water cycle. Warm air, moist from the Pacific Ocean and Caribbean Sea, rises up the sides of the mountains, cools, and then condenses into clouds that hang almost permanently over the forest.
You might be surprised to discover that soil in Monteverde is actually quite poor in quality. Local trees and plants have adapted uniquely to take in nutrients from the air, carried in microscopic particles by the tiny droplets in the clouds.
Planning Your Visit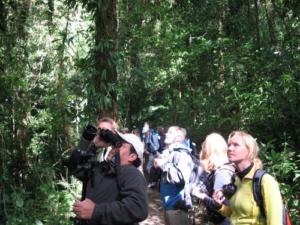 Now that you know a little about Monteverde, it's time to get to the nitty-gritty of your travel plans. The area's climate is cooler and significantly wetter than the rest of the country.  If you're planning multiple stops within Costa Rica, pack an extra jacket and a pair of long pants – and don't forget a raincoat. Hiking shoes with good traction are also an invaluable asset, especially when the trails get a bit muddy in the rain. Also, don't forget that you're up on a mountain – so despite the cooler temperatures, you definitely need to wear sunscreen.
What to Do There
There's no shortage of activities for the adventure-oriented, as well as for those who like their travels to be a bit more laid-back. Take a look at this list as you plan your trip.
Hike the Trails (and Suspension Bridges). Choose from among multiple trails, some more rigorous than others (though none longer than a little over a mile or so). Different trails wind in and out of different areas of the forest. This gives visitors the opportunity to choose their own paths – whether they want to see the continental divide, bromeliads, or butterflies. The suspended bridges, comprising the Sky Walk, also have fantastic views of the canopy.  If you're really lucky, you might even see a rare Resplendent Quetzal.
Zip-Line Through the Canopy. This is the perfect outing for adrenaline junkies. Though they're billed as "canopy tours," don't be fooled. You'll fly above the treetops too quickly to do much learning or pondering. But you will enjoy breathtaking views, and experience the cloud forest in a way you never dreamed possible.
Go with a Tour Guide. No matter how well you can read a field guide, a tour guide will have an almost magical ability to point out flora and fauna you'd otherwise pass by without noticing. Early morning is best for birding, but you may also want to go on a tour after dark to see another side of the forest entirely. On a night tour, you'll see animals that were inactive during the day come to life. After all, the forest never sleeps.
Before It's Too Late
At the risk of ending on a depressing note, if the cloud forest is on your personal bucket list, make a plan to visit sooner rather than later. Global climate change has already had an enormous effect on the cloud forest. The average temperature has risen several degrees since the 1970s, and areas that were once shrouded in mist now house lowland ecosystems. If we manage to turn climate change around, maybe the clouds of the forest will remain.
WRITTEN BY:  Anna Johansson  https://twitter.com/Number1AnnaJo
Contact Us for more information on what to see and do while in Costa Rica.