By Frank Izaguirre, TheCostaRicaNews.com.
It isn't hard to get to know Costa Rican nature. The country's strong conservation ethic and the accessibility of protected areas make it easy to enjoy Costa Rica's famed natural splendor. To further cultivate our familiarity with Costa Rican nature, some of us may take up bird watching or gardening. An assortment of well-designed field guides can help us better learn the flora and fauna of Costa Rica. Yet nature is something more than what we see in a field guide.
TIP: Get updates on upcoming Costa Rican Retreats & Events by joining our newsletter. Don't miss out on what's happening around you! Click here.
Many of Costa Rica's greatest protectors of nature, including some prominent scientists, have written wonderful memoirs and novels about their experiences in Costa Rican nature. Through their work, we can discover the powerful resonance between nature and the literature it inspires. Books may even prompt us to carefully develop our own environmental ethic. Listed below are some great examples of Costa Rican nature writing.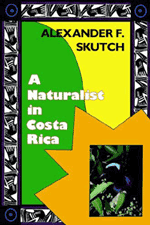 After traveling for over a decade through remote regions of Central America to study tropical birds, the American ornithologist Alexander Skutch settled into the then remote Costa Rican valley of El General in 1941. In his memoir A Naturalist in Costa Rica, Skutch chronicles his efforts to learn the secret lives of reclusive rainforest birds while tending to more mundane duties. He grew nearly all of his own food, including a yearly corn crop and a garden full of tropical fruit, which he shared with the birds from the neighboring forest.
In flowing prose, he describes the birds, plants, insects, and blooms in his corner of tropical wilderness, and shares his efforts to earn intimacy with his adopted home. Skutch rejected common ornithological practices like banding because he feared that holding the captured birds in human hands might psychologically damage them. Instead, he always observed the birds he studied from a respectful distance, which never prevented him from cementing his reputation as one of the greatest contributors to ornithological knowledge. He is legendary for his field research, and has sometimes been referred to as "the last great field naturalist." And although Skutch may be regarded as the last of an era, he was well ahead of his time.
Through careful contemplation, Skutch developed a relationship with nature that protected his small corner of rainforest, even as the rest of the valley's forests were cleared for cattle pasture. His ethics regarding animals included strict vegetarianism, a practice he maintained for 85 years until he died in 2004 at the age of 99, a week away from his centenarian birthday. A Naturalist in Costa Rica is an invaluable text that sheds light on what Costa Rica was like in the early and middle twentieth century, and how one man strove to cherish and protect the things he most loved.
Archie Carr, renowned herpetologist and conservationist, is the father of sea turtle conservation. A chronicle of his travels through Florida, the Caribbean, and Central America, The Windward Road is packed with rich descriptions of the sylvan shores and wild beaches Carr roamed to learn the secret lives of sea turtles. A healthy portion of the book is devoted to his travels through the areas of Parismina and Tortuguero, which he helped encourage the Costa Rican government to designate a national park.
One of the exceptional elements of the book is Carr's eagerness to immerse in the local cultures he passes through while studying tropical nature, including Afro-Caribbean, indigenous, and Latino. He relished learning their music, language, and food. In marked contrast to Alexander Skutch, Archie Carr delighted in eating some of the very creatures he yearned to study and protect, especially sea turtles, a major part of the diet of coastal peoples throughout the region. His paradoxical impulses to protect and consume are at once disturbing and fascinating, making The Windward Road an intriguing commentary on how people interact with the wider world of nature, and a classic of tropical nature writing.
Tropical Nature by Adrian Forsyth and Ken Miyata
A collection of essays about the natural history of the rainforest, Tropical Nature is perhaps the best introduction for casual readers to the complexity of rainforest ecology. The authors are Adrian Forsyth, a renowned biologist who has since continued writing about the rainforest, and Ken Miyata, who tragically passed away before the book was published. The book is based on their combined experiences in Costa Rica and Ecuador.
Forsyth and Miyata invite the reader to understand such mysterious aspects of the rainforest as bird migration, the itinerant and violent ways of army ants, and why some plants produce hallucinogens. They even devote a large portion of a chapter to explaining the methods and logic behind the habits of the dung beetle. Tropical Nature turns complex scientific knowledge into entertaining and informative reading.
Also by Alexander Skutch, A Naturalist on a Tropical Farm is a series of meditations that expand upon the inherent conflicts of protecting rainforest and growing crops. Skutch is both a naturalist and farmer, and he wrestles with his desire to preserve as much of the unfelled rainforest near his home as he can while still growing his own food. The book also includes vivid descriptions of the local flora and fauna, mostly birds, but also creatures like the agoutis that live in the adjacent forest and the leaf-cutter ants that threaten his crops.
Perhaps the most unique theme to A Naturalist on a Tropical Farm is Skutch's tireless efforts to live in harmony with tropical nature. Importantly, his view of harmony excludes predation and parasitism, and Skutch deeply laments the eternal strife of life and death in the rainforest, always striving to reduce it. He provides food he has grown for songbirds to enjoy, but when snakes begin to prey on the birds, Skutch is faced with the moral quandary of whether he owes the birds his protection, since he has attracted them. Illustrated by Dana Gardner, A Naturalist on a Tropical Farm accomplishes much by lingering on the finer details of living by nature, and is a must-read for anyone who has made their home close to the rainforest.
For the native Spanish speaker or intrepid learner, La Loca de Gandoca is a wonderful novel that exposes the reader to the many threats to Costa Rican nature, including foreign development interests and government corruption. Set on the Caribbean coast in the Gandoca-Manzanillo Wildlife Refuge, the story chronicles one woman's effort to protect the refuge and its lush rainforests, teeming with wildlife, as well as the offshore coral reefs dependent on their preservation.
La Loca De Gandoca is an environmental thriller with strong ecofeminist themes, yet moments of intense lyricism give the prose a beautiful texture, endearing the reader to the protagonist's struggle to protect the forest. Interestingly, Rossi's novel also includes the perspectives of two underrepresented Costa Rican ethnic groups, Afro-Costa Ricans and indigenous tribes. The fact that La Loca De Gandoca is written by a non-scientist Costa Rican woman makes it an essential for readers looking for literature that provides yet another underrepresented perspective and fresh insights into the value of Costa Rican nature.
Los Viejos y Los Arboles
Something of a departure from the other works listed here, Los Viejos y Los Arboles is a collection of interviews with Costa Ricans and foreigners who have made their home in Costa Rica. The book focuses on the relationship between Los Viejos, or "The Elders," and the trees and forests of Costa Rica. A range of prominent figures are featured, from scientists and conservationists to insightful farmers to none other than José Figueres, the three time president of the republic who abolished the Costa Rican army.
In both English and Spanish, Costa Rican nature writing helps elucidate the fascinating life of Costa Rica's rainforests and other natural habitats while prompting readers to evaluate their own relationship to nature. For foreigners and natives alike, these books have great value. As more and more people come to admire and care deeply for the conservation of Costa Rican nature, the canon of Costa Rican nature writing seems sure to grow.