Costa Rica's top musician Roberto Luis Garcia, aka "Ferroque" (guitar) together with a packed house of reggae fans gave a warm welcome to NONPALIDECE. Club 212 in San Joaquin de Flores became the venue where the lights and sounds decorated the stage for an amazing performance.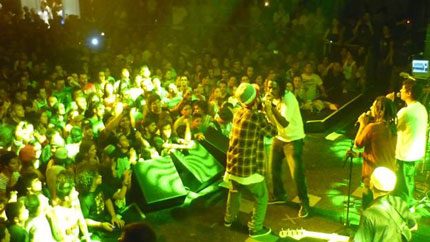 Saturday's concert was without a doubt a hit with fans coming from all regions of Costa Rica and abroad. NONPALIDECE was formed in mid 96 with Nestor Ramljak on vocals and guitar, Facundo Cima bass, Diego Bravo guitar and Gallus Llorente on drums; Thus the idea was experimenting with reggae and gaining strong influences of the Jamaican scene of the ' 70s.  For this purpose the group added other musician friends to the band. This took their original sound to a common place originally proposed, joining the local Roots scene.
Nonpalidece reached their first album "DREAD to the CONTROL", recorded and released independently in 2000 and from that point they have taken off. The next year NONPALIDECE travels to Costa Rica to participate in a festival and opting to edit the album in that country
In 2004, NONPALIDECE records their second album, produced by  Diego Blanco, "NUEVO DÍA" or "NEW DAY"  providing them an important leap that made "Revolucion" or "Revolution" number one for several weeks on 911 FM Radio in Costa Rica. From this came the video "Tu Sueño" or "Your Dream".
When TCRN asked about the future of Costa Rica for concerts by national and international performers Ferroque (Roberto Luis Garcia) stated; "we need to support all artists that come to Costa Rica and provide them with quality venues where they can give their best performance".   In relation to national artists Ferroque continues by saying "….the public isn't aware how difficult it is for national artist… they are at times, artistically taken for granted and often neglected within their own country".
Club 212 a 200 metros  Oeste de la Casona del Cerdo San Joaquín de Flores, Heredia
For club bookings contact Alvaro Sibaja at 506 8809-1765 or [email protected]adcDayGroup.com
Official Video:
httpv://www.youtube.com/watch?v=zKTVBMQJg6g&feature=player_embedded#at=21