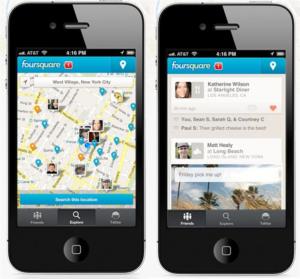 Surely, you have a friend who has recommended a good restaurant, or has warned of poor treatment from a business or public office. Or, perhaps, you've seen a great sale at a particular store and told your friends about it.
This mutually beneficial relationship that can arise between consumers and businesses in real life also has a specialized Internet network.
With only two years of age and 6.5 million users (60% in the USA), Foursquare's social network is growing faster than Facebook, the world's top social network.
Foursquare is a network based on geolocation and is currently used by a relatively small group of Costa Ricans, but the concept is already prompting some Costa Rican businesses to give special offers and promote themselves in it.
Foursquare
Launched in 2009, Foursquare defines itself as "a location-based mobile platform that makes cities easier to use and more interesting to explore. Check in to unlock specials, meet up with friends, and explore what's nearby."
In practice, you need a mobile device with Internet access (a smart phone or tablet can be used) and the downloaded application (app). All major mobile operating systems (e.g. iPhone, IOS, Android, Symbian, BlackBerry) support free use of the Foursquare app without having to visit the website directly.
Before you can use the service, you must open up a free account. During this process, the system guides you to check if some of your friends are already on Foursquare, and then invites you to become "friends" on Foursquare.
Foursquare explains that you share information only with your friends and can put limits on data management to ensure your privacy.
After your account is up and running, you select your current location (e.g. restaurant, store) by "checking in." When you check-in, you can add a comment about what you like or dislike about the site, as well as a photograph. If desired, you can configure the app to publish all this information automatically to your profile in Facebook or Twitter.
Advantages
When you check-in and make comments or meet a specific itinerary, you can win some symbolic prizes, like badges and mayorships. A growing trend is for businesses to actually convert these symbolic prizes into real prizes in the form of coupons and freebies.
But beyond prizes, Foursquare members end up having influence on the decisions of others using the app by contributing tips and recommendations on businesses.
Joel Tinoco, Project Director of the company Pixel, explained that the interest in Costa Rican enterprises to develop this type of marketing is increasing, but the process of registering all the sites is a bit complicated.
"However, at this point, Foursquare users are a very interesting type of consumer: they have a certain status, smart phone with internet access, knowledge of how to use the tool and are interested in doing things to win something," said Tinoco, who works with web design issues and is currently developing marketing ideas for use with Foursquare.
Tinoco believes that in the near future there will be an expansion in the use of this network in the country, and that will make it more attractive to commercial businesses.
"Yes there is a market, the issue is that companies currently do not know how to exploit it," said Tinoco.