Costa Rica – (AP) — The simulated rainforest at Miller Park Zoo is fun to visit, but nothing beats the real thing.
Once every two years, zoo education specialist Shannon Reedy leads about a dozen high-school-aged members of the wildly popular junior zookeeper program to the rainforest of Costa Rica. The latest group visited the Central American nation during winter break in late December.
"They don't want to come home," said Reedy, 41, who's worked at the zoo 12 years. "I tell them the last day is the saddest day. They don't believe me. They think they will want to get back to the iPods and all that. But they don't. It is something really different from Illinois in winter."
Was it what Chelsea Center, 16, imagined it would be?
"It was a thousand times better," said Center, a junior at Normal Community West High School and the daughter of Paul and Kathleen Center of Normal. "We got to see so much."
Center was so excited about the idea of visiting Costa Rica when she first heard about it on a zoo visit in third grade that she began saving for the trip immediately. She became a junior zookeeper when she reached the minimum age of about 11 during the summer after fifth grade.
Junior zookeepers attend learning sessions during summer and on Saturdays during the school year. Once they reach junior high school, they begin helping with special events and guiding visitors. As they grow older, duties expand to preparing animal diets and cleaning exhibits, supervising younger junior zookeepers and leading seminars, demonstrations and programs, such as sea lion feedings. The zoo has about 250 zookeepers from the Twin Cities and surrounding towns, including as far away as Pontiac.
To go to Costa Rica, they must be a junior zookeeper in good standing with about four years of service and be sophomores in high school. Some work part-time jobs to raise money for the trip after they're accepted, about 18 months in advance of departure. Center saved Christmas money, birthday money and what she made taking care of pets for the families of friends when they went on vacations.
The junior zookeepers going to Costa Rica also attend socials so they get to know one another.
Jose Rojas of Natural Expeditions, the Costa Rica tour experts based in Bloomington-Normal, coordinated the trip. Reedy insists the itinerary focuses more on wildlife than wild living. No zip lines are scheduled, though they're popular in Costa Rica, where tourism ranks as the No. 1 industry. Instead, she maps a route to take the junior zookeepers from the rainforests to the mountains, with stops in between to see birds, mammals and other creatures.
Located on the natural bridge connecting North and South America, Costa Rica is one of the most biologically diverse areas of the world, and home to more than a half million species. More than 800 species are birds. More than half are insects, a favorite of Reedy, who has a degree in biology. More than 1,200 species of butterflies live there. Costa Rica has 12 distinct life zones with different altitude, rainfall and temperature. Each has a different ecosystem. Leaders in Costa Rica realized early that natural areas had to be protected to ensure the long-term survival of nature tourism. They set aside more than 25 percent of the nation for wildlife refuges.
"I make sure we spend a lot of time in a bus," Reedy said. "It doesn't take all that long to get from one end (of Costa Rica) to another. It's important to see the low tropical rainforest, but we climb the mountains. We go over 12,000 feet. Costa Rica is not just rainforest. My goal is to stay as far away from people as possible. . We want to see where the animals are and be where it's quiet. . We go off the beaten path."
Reedy had a feeling the trip was going to be a success when they saw colorful toucans shortly after they arrived at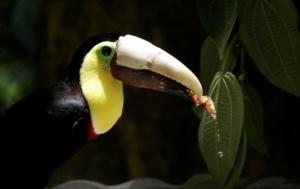 Selvaverde Lodge, a resort tucked in the rainforest.
Guide Herson Guevara scouted areas by phone to talk to fellow guides about what wildlife they'd seen recently. From his leads, they were able to be in the right place at the right time to see a pair of resplendent quetzals. The birds are an iridescent green with red breasts and stand about a foot tall. Males have three tail feathers that are two feet long. The pair took turns preparing a nest in a hollow tree.
Reedy's 10-year search for a pig-like tapir, the largest mammal in that part of the world, finally bore fruit when Guevara led the junior zookeepers close to one of the animals as it slept. It remained unaware of their presence.
"We were very sneaky," said Reedy, laughing.
They also saw a three-toed sloth and four species of monkeys.
Center's favorites were the tapir encounter, the quetzals and a boat trip where about 20 pilot whales surfaced near the group's small boat. They jumped from the water about 100 yards away, but were about 50 yards away.
"We saw a lot of special stuff," Reedy said.
"Visiting foreign countries is a completely totally different experience," said Center. "It was amazing."
Information from: The Pantagraph, http://www.pantagraph.com