Some days ago, La Sabana's Gustico Fair took place in Costa Rica. The event brought small farmers together to showcase their products to other local and foreign businesses. In the event, 325 small farming companies had the opportunity to show their production to the public in general which included: other small businesses, distributors, and international buyers. Besides, these small producers did some reforestation work to recover green areas that had been illegally devastated.
TIP: Get updates on upcoming Costa Rican Retreats & Events by joining our newsletter. Don't miss out on what's happening around you! Click here.
The producers specialize in 'homemade' products from the fruits they harvest. In this type of conference, they showcase chocolate, jam and cheese among other 'homemade' products which can draw the attention of customers from other countries.
Characteristics of these activities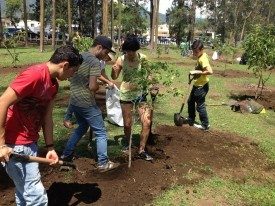 It is important to let people know how long these activities last and how much the entry pass costs.
First off, these interesting events don't last more than four days. For example, one of the last activities in favor of the small producers was in La Sabana Park, some kilometers away from the Leon Cortés Monument and the Metropolitan Art Museum. No entry was needed because it was totally free and anybody could drop by to see the exhibition. That activity lasted until that Sunday evening.
Distributors, small business CEOs and producers are able to enjoy samples of games for kids, handmade food products and much more. These activities are usually free because the profits can be obtained from the sales, so there is no need to charge an entry fee. Moreover, charging an entry fee or a pass could take attractiveness away from the event, driving many curious away.
Food fairs are organized by the Ministry of Agriculture and Lovestock (MAG). Gustico is the result of the effort made by 14 pro-agricultural associations that strive to encourage farming development in Costa Rica. Banco Nacional and the Dos Pinos Cooperative often lend a hand to agricultural small businesses so that they can spearhead these activities.
Organic products, the spearhead of the agricultural economy in Costa Rica
Organic products are really expensive in developed countries like the United States. Costa Rica's soil is fertile enough as to produce a large number of mangoes, papayas, and guavas, among other tropical and exotic fruits. What makes food fairs attractive is precisely the word 'organic'. Today, it is extremely difficult to find pesticide – free fruits, as most agricultural companies take care of their crops by utilizing pesticides and other chemicals that eventually affects the nature and chemistry of the fruit.
Exporting organic fruits and basing the economy on this type of crops is a step toward an eventual evolution of the economy. Organic products demand is sky-rocketing due to the disquieting increase in the number of chronic diseases such as cancer, diabetes, high-blood pressure and heart problems linked to the intake of frankenfood and genetically modified veggies. As a consequence, many visitors are looking to stay healthy and organic food is definitely an alternative.
Costa Rica is just taking advantage of the current situation in many countries where the incidence of incurable diseases is eye-popping.
More cooperatives participating
It is expected that more cooperatives and small producers can partake in food fairs. Food fairs are not only based on fruit production exhibitions, but also on food in general. The aim is to boost organic food production to the maximum and encourage people to prefer this kind of products over the chemically modified ones.