The city of San Ramon invites you become part of their family with traditional music, food, and dancing!
Did you know that Festejos Patronales in San Ramon, Alajuela are among the oldest annual celebrations in Costa Rica? While the event may have religious roots, all are welcome to become una familia en fiesta. Held in the city's central park, Festejos Patronales is free to the public and will continue with full days of activities until September 7th.
Novena of Patron Saint Raymond Nonnatus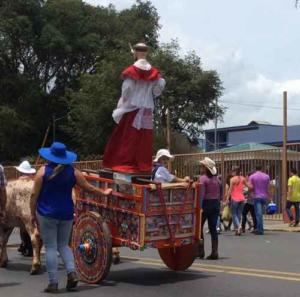 TIP: Get updates on upcoming Costa Rican Retreats & Events by joining our newsletter. Don't miss out on what's happening around you! Click here.
The festival opened this past week with a novena to San Ramon, who is also known in English as Saint Raymond. While dedications were held in various communities around the city, each shared a daily common theme.
In the Catholic faith, a novena is an act of pious devotion to a specific saint. For nine days the faithful participant engages in public and private prayers "to implore special favors, or to make special petitions." The Anglican Church, Eastern Orthodox Church and Lutheran Church also occasionally partake in the ritual.
A patron saint, in turn, is a saint who is believed to be able to intercede for certain themes or locations. For example, St. Francis of Assisi is said to be the caretaker of animals, and St. Raymond Nonnatus is the guardian of San Ramon city. Tomorrow, in fact, is St. Raymond's feast day.
Let the Festivities Begin!
Following the completion the novena last Thursday, the Festejos Patronales or Patron Festivities of San Ramon took a more vivacious turn with dancing and the election of the 2015 "reining family" of the week, the Parroquial Center.
Each day begins with Catholic Pass at the Parroquial Temple, then continues with plenty of fine food and music. TCRN has highlighted a few events you may like to attend, but a full schedule is available in Spanish here.
Get to know some of the featured performers
The Entering of Saints, a 160-year-old tradition
Chiqui-Chiqui, band
Humberto Vargas, singer-songwriter
The Vargas Brothers, band
Victor Kapuscka (from Abracadabra)
Rogelio Cisneros, singer
Banda de Puntarenas, band
La Mini-Banda, band
Añoranza Italiana, dance group
Abraham Project, non-profit
Clasica de Atletismo, race
Cattle Parade, a 20-year-old tradition
Elena Umaña, singer
La Solución, band
Mango Verde, band
Header image via Festejos San RamonCR.