What happens when two university students take to the streets with nothing but a white board and a video camera?
Parque La Libertad's "accept the challenge" campaign intends to find out.
It all began when Valeria Loría a student of the Center for Technology and Visual Arts (CETAV) was walking through an old landfill close to Parque la Libertad. "What if," she thought. "What if everyone was proposed to pick up a piece of paper found lying in the street."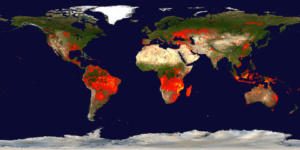 After all, who didn't play that game in grade school?
Loría and her colleague, David Henry were already working on developing a video game about climate change in conjunction with the Costa Rican company, Fair Play labs; the German Embassy; the French Embassy; the United Nations Development Programme; and Parque La Libertad. This new "accept the challenge" campaign seemed to be an easy way to engage the people of Costa Rica now.
According to a press release by Parque La Libertad:
[quote_center]"Accept the challenge" intends to inspire small and concrete actions to help mitigate the effects of the climate change…[/quote_center]
Do You Accept the Challenge?
Accepting the challenge is simple.
Watch Video No. 1 seen above, and don't worry. There are subtitles!
Come up with your own environmentally-related challenge that people can quickly and easily complete.
Complete the challenge and challenge others.
Record the whole experience on video.
Upload that video to Parque la Libertad's Facebook page before September 24, 2015.
These videos will eventually be put into an environmental exposition to help CETAV achieve certification with Ecological Blue Flag program. That being, the campaign will hopefully have much broader outreach.
Similar social media campaigns have already been widely successful. Remember the Ice Bucket Challenge? Over 2 million people were eventually tagged in those videos last year resulting in $220 million being raised for ALS research.
Who is CETAV and Parque La Libertad?

With an entire foundation dedicated to educational activities, Parque La Libertad is not like other parks in the San Jose Metro. Instead, it is:
[quote_box_center]"An initiative of the Ministry of Culture and Youth of Costa Rica, which seeks to develop opportunities for interaction and artistic management, environmental, sports projects, urban culture, technical training, commercial and entrepreneurial outlets."[/quote_box_center]
It is purposefully located at the conjunction of the marginalized counties La Unión, Desamparados y Curridabat since these communities form one of the largest population sectors of the Greater Metropolitan Area.
Consequently, CETAV is an educational facility with the following mission:
[quote_box_center]"To be a self-sustaining public space that offers opportunities for excellence and quality in expression, cultural enjoyment, technical training and outdoor activities that constitute integrating forces in the communities around it, jointly enhancing [these communities'] economic, environmental and social development."[/quote_box_center]
In other words, CETAV believes that by promoting the arts and training individuals to do the same, they can help better the surrounding communities in a sustainable way.
The school offers programs in Web Development and Design, Editing and Digital Post-production of Images and Sound, as well as 3D Animation. While CETAV displays its website in Spanish, at least some of the classes are offered in English so as to better prepare students for the actualities of the business world.
For more information on enrollment email: [email protected]