It has become a Saturday morning routine for many of us to place our online orders with the Feria Tinamastes so that we can continue to feed ourselves and our families with locally grown organic foods.
This week I was inspired to take a moment to reflect upon how blessed I am to continue to have access to the abundance of healthy food being produced in my region. I was reminded that a mere 7 years ago I had to drive all the way to Perez by 7 am to have a shot at access to the limited organic produce available each week.
Fast forward to today and our beloved Feria Tinamastes. It has become a hub for connection and sharing. Above all, it has become a space for us to honor the earth that provides for our health and nutritional needs so abundantly by supporting the small farmers whose hands work to provide for us all.
TIP: Get our latest content by joining our newsletter. Don't miss out on news that matter in Costa Rica. Click here.
For those of us living in the mountains between Dominical and Perez, it was the hard work of a few individuals and the team behind Vida Autentica over the last several years that grew the number of farmers producing organic foods across our region. Week after week we came together in the local salon to shop and socialize at the Feria Tinamastes. For our friends and family along the coast, the Eco Feria in Dominical connected shoppers and organic producers.
And then COVID-19 hit the world and everything changed.
Some of you know that I'm a vendor at the FeriaTinamastes and have been since it's inception 7 years ago. When the market doors were suddenly forced shut, I admit that I went into panic mode. The life I have created for myself here in Costa Rica over the past decade suddenly felt fragile and unstable. The idea that I might lose my income brought with it fears that I wouldn't be able to hold onto the life I hold so close to my heart. What would another life even look like?
Obviously I wasn't alone. All of us were forced to contend with an uncertain future. All of the vendors in markets across the country and indeed across the world, were left without any idea of how to generate an income that could support our families.
It took the team behind the Feria Tinamastes about a week to gather the resources to put the market online. And there were many hiccups along the way. Endless days and late nights were dedicated to reassuring farmers, organizing volunteers and navigating the often daunting world of creating a virtual market. And all of this was done with very little cash and a group of amazing volunteers.
Before our local markets were able to develop online ordering systems, I began noticing various platforms pop up online for organic vendors to sell their goods to people unable to leave their homes. I felt immediate relief and reassurance. Maybe there was an opportunity to still bring in enough income to pay my rent and feed my family. Several of the online shops that popped up had quickly developed shipping options that would potentially even allow me to have access to markets I hadn't previously, such as the costal communities north and south of Dominical.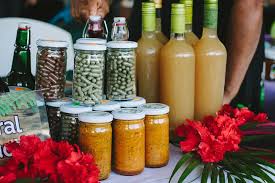 And then I stopped to breathe. Rather than flying into full on panic mode and jumping on the first opportunity I saw to generate income I considered that perhaps this was an opportunity for me to just have faith. Maybe this was an opportunity to trust in abundance. To trust that I will always have what I need — just as I always have — and to trust in my community to take care of each other.
As I begin to rethink my initial reaction, I considered what our local markets have given me over the years. I thought about all of the amazing and gifted growers and teachers that have become my family. I considered that while choosing to sell and shop with the local feria websites may not necessarily bring with it the same marketing opportunities or even the same ability to reach a new customer base, I have so much gratitude for the feria family who has held me close through the highs and lows I have faced over the years.
Let's all pause and take a moment to remember that the reason that we have access to organic farmers and their bounty is because of our local ferias. Let us consider those that were called to go out into the community and empower organic growers to share their knowledge so that a network could be developed and connected that would be the foundation of our local markets.
The people behind Vida Autentica and our local ferias were there, hands in the dirt helping to connect and uplift those in our community looking for a better way to grow food to feed their families and neighbors. They were the loudest voices in the courthouses fighting for our right to have schoolyards and roadways free of toxic herbicides and pesticides. These are people that took time out of their busy lives, time away from their children and loved ones, so that a network of sustainable and responsible growers could connect across regions to bring our community their organic harvest.
They spent weeks, months and even years vetting farmers and traveling to different farms that would be the backbone of our ferias. They travelled back and forth to San Jose, helping farmers fill out endless paper work to meet organic certification standards. All in the name of community.
And suddenly the world shut down.
So this is a call to action to my community to remember how much our ferias have given us and to think of our local farmers. In my zone I think of one of my favorite faces from the Tinamastes market, a small home gardener I've known and trusted for years. He was one of the first in our area to take the Vida Autentica organic growing course. He grows some of the most beautiful leafy greens and herbs I've ever seen.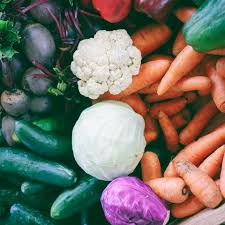 And now, in the face of all that COVID 19 has thrown at us, he finds himself losing customers. He finds himself competing with online platforms that had the resources to immediately create customer savvy delivery platforms that are now delivering to his neighborhood. My friend is just one of many small growers in the area that met the needs of his community and who now finds himself competing with flashier, slicker platforms that were able to capture part of his customer base before his local market got online.
This is a call to customers who can make a choice to support their local ferias in these uncertain times. Buy from your local farmers markets and help support the long term health of these pillars of our community.
You can order every week from the Feria Tinamastes for delivery to La Florida, San Salvador, Las Tumbas, Tinamastes, Platanillo and San Isidro. Order from the Eco Feria Dominical for delivery to Dominical, Lagunas, Dominicalito, Hatillo, Matapallo and Uvita.
If you live outside these delivery zones, we are glad that there exist private delivery options to meet your organic food needs.
And remember that many of your local shops and restaurants have set up delivery services too — let's keep them in business by ordering from them directly!
Viva las ferias!