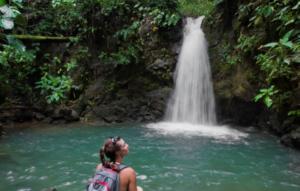 The Osa Peninsula is located on the Southern Pacific Coast, bound on the northwest by Drake Bay, on the west by the Pacific Ocean, and on the east by the Gulfo Dulce. It was named one of the most biologically intense places on earth by National Geographic. Its rain forest will awaken your senses, the food is fresh and flavorful, the flowers and plants pop with color, and the sounds of crashing waves and squawking birds become commonplace after a few days. The Osa Peninsula should be at the top of your list if you're traveling to Costa Rica, without a doubt.
Climate: Dry Season – December to April, Green Season – May to November
Temperature: High 90° F, tropical weather with afternoon daily showers from May to November.  As this is the tropical rain forest, expect high humidity.
Bring: Beach wear, sunscreen, quick drying clothes, bug repellent, hiking shoes or boots, and a rain jacket.
HOW TO GET THERE
By plane
A flight from San Jose to Puerto Jimenez takes approximately 45 minutes. The two main airlines you can fly with are Nature Air or Sansa Airlines.  Flight costs can vary, depending on the season and availability, but they generally range from $80-180.  There are multiple flights daily to Puerto Jimenez, but there are no late afternoon or evening flights.  The last flight is at approximately 3pm in dry season and 12pm in green season.
By rental car
Renting a 4-wheel drive vehicle to travel to the Osa Peninsula is a great way to experience Costa Rica. The drive from San Jose takes about 6-8 hours. You can make some stops on the way down, such as the 'Crocodile Bridge' just before Jaco, the stunning beaches found at Playa Hermosa, or the quaint and world-famous Playa Dominical.
By public bus
Buses from San Jose to Puerto Jimenez depart daily, roughly around 6am and 12pm from the San Isidro del General bus station. This bus trip costs about $15 and takes 8 hours.
You can also take the Tracopa Bus #612 from Terminal Alfaro to Golfito, which lasts about 8 hours and leaves at 7am and 3pm.  From Golfito, you would have to take the ferry to Puerto Jimenez.  The trip takes about an hour and a half. It costs $4 and leaves at 11:30 (subject to change).
There are also fast ferries available that take 30 minutes and cost $6. The fast ferries leave at 7am, 10am, 1pm, and 3:15pm. More info on the ferry schedules can be found here.
For the way back, you can take the bus from Puerto Jimenez to San Jose that leaves from the peach colored bus station in town at 4am and 12pm.
WHERE TO STAY
The stunning rain forest of the Osa Peninsula is truly untouched, with secluded beaches and an amazing array of wildlife. Many of the hotels and resorts in the area aim to showcase the beauty of the wild Osa while minimizing their environmental footprint.  There are a wide range of options to consider depending on how adventuresome you are, or how far off the beaten path you are willing to go.
WHAT TO DO
Tours from Drake Bay:
Corcovado National Park Hike
Referred to as the Amazon of Costa Rica, Corcovado National Park is located on one of the richest and most diverse tropical areas on the planet. This national park protects over 100,000 acres of land and numerous local species. Your guide will bring you into the dense primary and secondary forest. Watch out for the abundance of tropical birds, including scarlet macaws, parrots, and toucans, as well as the innumerable species of butterflies and insects, several species of monkeys, sloths, and more! Take a swim in a jungle waterfall before your tour ends.
Snorkel or Scuba Tour of Cano Island Biological Reserve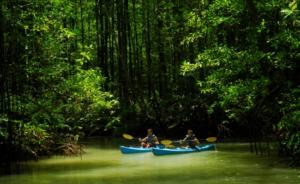 Twelve miles offshore from Drake Bay is Cano Island, home of the Cano Island Biological Reserve. The evergreen forest, white sand beaches, and coral reefs of this reserve make it one of the country's most popular destinations for scuba diving and snorkeling. Divers will find themselves among all types of fish – big and small – which include both bull and white-tip sharks. Visit between December and April to see the 40-ton humpback whale pass through from their Alaskan feeding grounds, or between February and June to see white manta rays in the area.
Mangrove Boat Tour
This tour, led by experienced naturalist guides, will take you to the largest untouched mangrove forest on Costa Rica's Pacific Coast. You will explore the maze of canals and rivers while you search for the region's most fascinating wildlife. These flooded forests are home to nearly 100 bird species, tree frogs, boas, iguanas, river turtles, coatis, caimans, crocodiles, and more.
Sport Fishing
Test out your fishing skills near Drake Bay. Black marlin, yellow fin tuna, Wahoo, and sailfish are all found in abundance in these waters, along with the occasional striped marlin. Inshore fish include roosterfish and cubera snapper. Sit back, relax, and catch some dinner!
Whale & Dolphin Boat Tour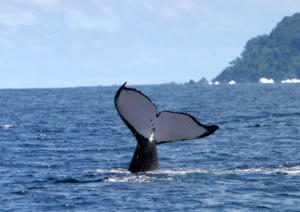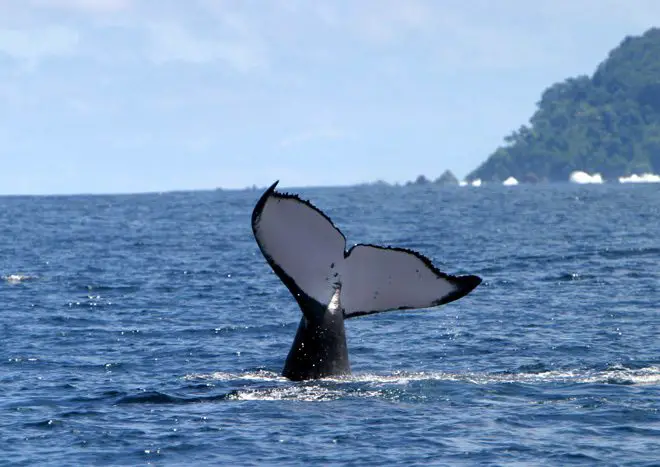 The warm waters of the Southern Pacific are home to a variety of whale and dolphin species. Sign up for a tour in order to have an amazing up-close encounter with one of these majestic creatures. The humpback yearly migration takes place in this area, and they can frequently be seen with their calves between August and October. Dolphins live here year-round, and you can frequently see them riding the waves in front of the boat. Keep a sharp eye out for pilot and false killer whales, as well as spotted, bottlenose, and spinner dolphins.
Bird Watching Tour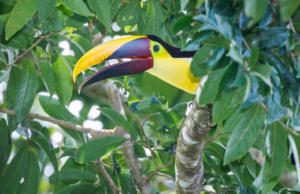 Bird-watching enthusiasts will have the time of their lives in Drake Bay. With over 350 species living in the region, Drake Bay's bird watching tours are the best chance to cross a few off your must-see list. The guides are extremely knowledgeable about the vast community of rain forest bird species, including everything from woodpeckers and hawks to flycatchers and hummingbirds.
Tours from Puerto Jimenez:
Piedras Blancas National Park Tour
This National Park contains over 30,000 acres of evergreen primary and secondary forests. Visitors may be able to spot toucans and scarlet macaws, kinkajous and coatis, white-faced capuchin and spider monkeys, as well as the two-toed sloth, anteater, snakes, frogs, and over 53 species of bats. Additionally, the Park is considered an important gathering site for a number of bird species, and as such, is considered one of the better bird-watching locations in the country.
Waterfall Hike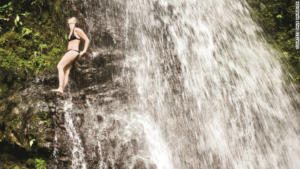 Experience adventure with a hike through the untouched rain forest.  Splash along the Carbonera River, and then stop for a swim under the waterfall. On the tour, one may encounter all four species of monkeys found in Costa Rica (spider, white-faced, squirrel and howler), Poison Dart frogs, Morpho butterflies, anteaters, agouti, coati mundi, jaguars, ocelots and margays. This tour is for tough hikers, as wet walking and some climbing is involved.
Golfo Dulce Dolphin & Snorkeling Tour
On the east side of the Osa Peninsula is the protected inner coast of the Golfo Dulce (Sweet Gulf), one of only three tropical fjords in the world. At Golfo Dulce, you'll be able to spot at least one of the three species of dolphin that reside in these waters: spinner, spotted, and bottlenose. Spend a few hours touring the blue and green waters of the Gulf looking for dolphins, sea turtles, and marine birds with a knowledgeable guide. Stop for a snorkel at one of the area's reefs, among the colorful fish, or find a secluded beach for a short swim.
Kayaking
Golfo Dulce is truly delightful to travel along in a kayak, above the beautiful blue and green waters, and with the rain forest canopy as a perfect backdrop. There are a few nearby rivers which offer the chance to paddle into the jungle mangroves. Kayaking is an adventure for both beginners and experienced travelers.
Surf Lessons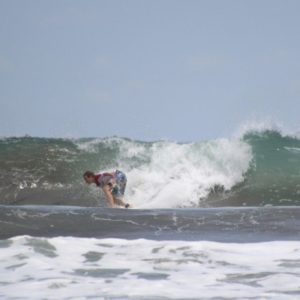 Surf lessons in this area are perfect for surfers of all levels. Your instructor will match your ability level with the different waves, making you comfortable on the board and confident in your ability. Whether you are 7 or 70 years old, you can bet you'll find that dream wave. Water temperature is around 83F, perfect!
Casa Orquidias Botanical Garden Tour
Visit Casa Orquidias (Orchid House), one of the oldest and most beautifully kept botanical gardens in the area. On the tour, you will see hundreds of tropical plants such as orchids, palms, heliconias, and fruit trees. Discover the many indigenous tropical fruits and plants on this beautiful private reserve.
For more information about the Osa Peninsula, visit QuePasaOsa.com.   Your one stop for all the news and more on the Osa!