Most people know of Dominical as one of the best hotspots to visit in Costa Rica.  But if you travel just a little further south, there is a region that is emerging with some amazing places to stay, great tours to explore, and a growing community to visit.  This region is known as Costa Ballena (Whale Coast), and Uvita is most certainly the very hub of it all.  Uvita is famous as the entrance to the Marina Ballena National Park, as well as the stunning waterfalls and gorgeous yet uncrowded beaches.  Uvita offers stunning mountain-side hotels, retreat centers, and now even 'glamping'.  Glamping is a new trend where guests can enjoy the adventures of camping in a glamorous setting and Glamping Hub has a variety of places to visit.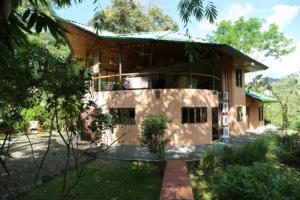 Manoas Luxury Camping and Villa Rentals offers you a tropical vacation like never before. You can choose between glamping tents or luxurious villas – all depending on what you are looking for. Whether you are looking for a family adventure, a place to rest and relax, or a location for your upcoming wedding, yoga retreat, company event, or family reunion.  The owners, Tatum and Steve, are committed to a visit that is both exciting and memorable, with a selection of uniquely designed glamping options or luxury villas that are spacious yet elegant.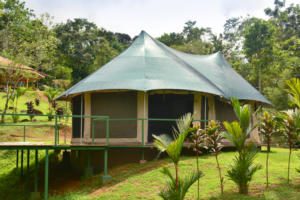 One of the staff members, Natashia, from The Costa Rica News had a recent visit at Manoas, and shares about her experience.  "What a magical place!  Getting to Manoas was fairly easy, and once you get there, you don't want to leave.  Manoas was simply amazing. Secluded, intimate, top notch in every respect. When you go there you feel like you are truly getting away, and your every need is cared for.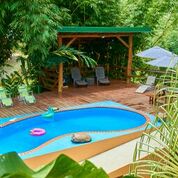 We had a warm welcome from the owners, and felt at home right away.  We enjoyed spending the day working at the pool, the WiFi is strong enough to do business from the jungle office.  The pool area overlooks the beautiful river, with the sounds of the birds in our ears.  We went for an afternoon hike, and enjoyed swimming in the river.  Tatum led a yin yoga class that left me blissed out.  Our stay was magical, and I can highly recommend Manoa Villas."
For a quick peek at this fabulous new location just above Uvita, check out these two short videos:
https://www.dropbox.com/s/jgvegbi7rtk4aq3/manoas-3b-HD%20720p.mov?dl=0
https://www.dropbox.com/s/707ypg3hsg8o423/Manoas%20-%2040%20second%20tour.mov?dl=0
The owners, Tatum and Steve, share more about their experience and their dream come true.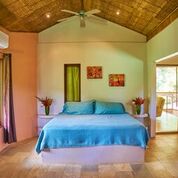 What brought you to Costa Rica? After traveling to Costa Rica in 2009 with a group of friends, we fell in love with the laid-back culture and beautiful nature that surrounds you in Costa Rica.  The lifestyle and friendly attitude of the Costa Rican people encouraged us to bring our hospitality-minded business idea to the Costa Rican Pacific Coast.
Where did this vision originate?  While on our first trip to Costa Rica, we met and talked with families who had moved here in search of a more fulfilling lifestyle, and the success and enjoyment they had found in their lives in Costa Rica.  With our background in hospitality and property management, we fantasized about a small resort property that could provide the personal satisfaction derived from doing what we love, a new lifestyle for our family, while also thriving financially in the tourism sector.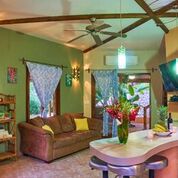 What have you learned while living it?  We have learned the value of "taking it easy", and slowing down to reduce our stress.  How important it is to appreciate life outside of material things or financial success.  The 'Pura Vida' attitude is real if you allow it to be. It reminds us that when we face difficulties in our lives, it's often best to take a break, focus on your life and loves, and to stay positive.  It's amazing what a hike to the river, or trip to the beach can do for your mental state!
What have been the greatest challenges so far?  One of our greatest challenges has been learning how to properly manage our property in an extreme environment.  The tropical heat, constant humidity, and heavy rains make maintenance a constant job.  However difficult the challenges have been, the reward has been in the joy that our guests experience at Manoas.
What are your greatest successes?  Our greatest success has been the enjoyment and positive feedback of our guests.  We set out to provide a place where people can go to find relaxation, comfort, adventure, and a break from the stresses in their lives.  We believe that the amazing natural environment of Costa Rica, mixed with our welcoming hospitality, and comfortable accommodations combine to provide a place where people can truly relax and breathe!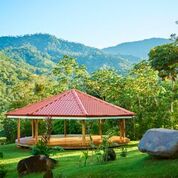 Where do you see your vision evolving in the future?  We are beginning our 3rd year of operation here at Manoas, so we are definitely still growing our brand and our product.  Our current focus is building a network and schedule of yoga retreats – as well as expanding our community yoga practice.  We want to continue to expand the property, growing more foods to become more self-sustainable.  We also want to focus on providing more activities for our guests to do at Manoas – expanding our yoga classes, providing wildlife hikes, guided bird watching, waterfall/river hikes and activities.
Manoas Luxury Camping and Villa Rentals is positioned between two rivers, is surrounded by the vibrant rain forest jungle, and yet close enough to the businesses available in Uvita and some of the most spectacular beaches in Costa Rica.  Tatum and Steve invite you come for a visit, a retreat, or let them organize your wedding or family reunion.  They can be reached at http://www.manoas.com.  You can also visit https://glampinghub.com/ for other glamping options.