Emmanuel Solórzano is a 29-year-old Alajuelan who quit his job comforts and modified a car -more than a year ago- so that he could live and travel in it. In South America, the dream of this engineer and photographer who plans to go around the world in his vehicle began.
In order to share his travel stories, he created a travel blog called "Capturing Kilometers" and is about to finish writing his book "1 Year Living in a Van". During a few days off in Costa Rica, Solórzano talked about this lifetime dream.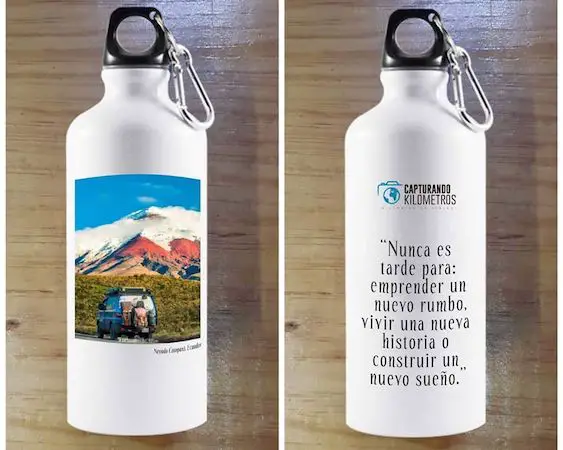 How was this dream born?
Before that I went out to get to know Costa Rica on the weekends, I really like camping and going on a mountain and beach tour. In an event, I met some travelers who were living in a 4×4 vehicle and had everything suitable to live inside of it.
They had been traveling for 2 years as they were coming from the United States. So then I said "Oops, I want to do that one day!" That was about 4 years ago and there the idea began.
I started saving and assembling the car. Well, I had a car of the year and decided that with the car of the year and the loan I saw that it was almost impossible to make a trip for so long if I had to pay it. Then I sold it and paid the debt that was the only responsibility I had and I bought this minivan. I already assembled it as in 9 months and that was when I left. I gave up everything. I sold everything I did not take with me; I sold it and then started the trip.
Before that, what did you do?
I am an electromechanical engineer. I worked with my brother on his own, a security company, everything that is related to alarms, cameras, electric fences, etc. That is what I was doing.
What did they tell you at home when you inform them about the plan?
At first they were scared; they replied to me that if I was crazy; how I could think of leaving everything thrown away. But you would see that I started inviting travelers and receiving travelers in the house who had the same lifestyle as they were in a van and there my Dads began talking to travelers, to see how the trip was, that it was not so dangerous, that it was relatively comfortable, that there were enough facilities and many applications to help each other.
And there they were getting confidence and rather before leaving they supported me a lot, when I already changed the car they saw that it was serious. I started to assemble everything in my house at dawn after work.
When did you start your trip?
I left Costa Rica on January 18th, 2019. In Panama, I spent 6 days. From there I went to Colombia; there is no road there because there is the Darien Plug. Then the car is shipped in a container and one passes by plane to Cartagena. There I continued 86 days in Colombia and went to Ecuador, where I was 5 months. Then to Peru where I stayed 3 months, and now I am in the north of Chile, where I have been entering.
What did you like most about this adventure?
In addition to all the landscapes that one knows, I already knew the snow traveling, the deserts, I have seen oasis. What I like most is the people that you get to know, it is what makes the experience beautiful, the support and that one sees that the world is not as bad as they sell it to one, traveling one realizes that there are more people Good than bad.
Have you been afraid of staying somewhere or want to return?
At no time, do you try not to expose yourself and listen to what people recommend about somewhere, but in safety I have not had any problems, nothing serious, I always take precautions. I worked in security so I am distrustful of certain places.
What is next now that you return to Chile? What is your goal?
My dream is to go around the world, now initially South America, if everything goes well I have 2 more years left. Now I return to Chile to continue to Bolivia for a month or more, from there return to Chile and go down to Argentina to alternate Patagonia between the 2 countries until we reach Ushuaia and there, return through Uruguay, Paraguay, and Brazil.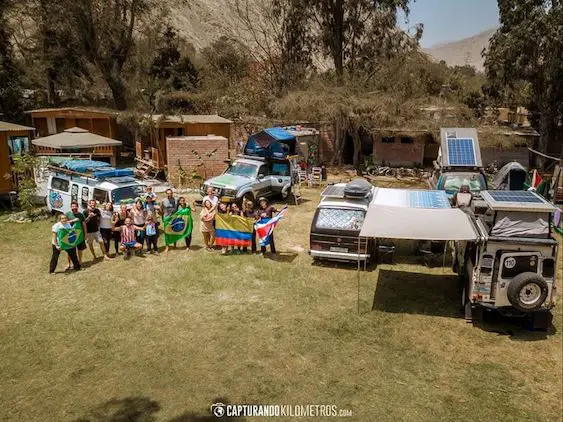 I hope that Venezuela is better in these 2 years to pass by car. But if not, hence the idea is to board the car and continue the adventure in Europe. Then I would like to cross into Africa, which has been a lifelong dream of mine to get there with the car.
This is my lifestyle. It is not anything like a trip; that is why I come to visit my family because it is not a trip. This is what I do.
How do you maintain the car?
Well, when I bought it, everything was wrong, now in a year nothing has failed me on the trip. Before leaving, everything you believe in, failed. I always give it maintenance and I am aware of anything because it is my travel tool. What have failed are minimal things that I have been able to fix.
How have you done to generate money on this trip?
At first I saved a little; now I save a lot of things with the comfort of the car because I live there. The savings lasted me like 4 months. What I am doing is photography of hotels, restaurants, I recorded surfers in Peru; I have some products that I sell here in Costa Rica with the work of the photos as altarpieces or advertising things.
Now I am finishing a book that tells what I have experienced this year and I hope it helps me to finance myself. In each place I am going to write or videotape me to have that moment and then pass it to the book. The book will be photographic. Maybe, later, I will take out a fully written book.
How do you do with personal hygiene?
It's a complicated little bit, but you get used to it. In the car I have a space to bathe but I can do it outside if I am on the beach, while I have water I can bathe every day. It is also a lie that one bathes every day when traveling; There are times that if you are in the snow, you will never bathe daily.
It also depends on the place. In Peru, in the desert part, it is difficult to find water. One has to see how he manages them. And regarding the sanitary service, I have a space in the car. Although there are almost always sources of sodas or gas stations where one can use the toilet.
What other things have you found in this trip in regard to the Latin American situation?
The car is in Chile and I came by plane. I am in the north of Chile; I just passed from Peru. Then I saw parts where there were blockages, all the banks covered with zinc sheets but not as much as you can see in Santiago, in the capital.
Luckily this year, I did not come across any protest, but there is a lot of poverty in Colombia and Peru. I really believe that we have a country that is pretty well compared to others. In those countries, everything is much cheaper, like gasoline, but at the end, wherever you are if there is poverty or humble people, they welcome you well. We, Latin Americans, are very friendly among ourselves.
Any bad experience during this year?
I have nothing bad to tell. Actually, everything went quite well.