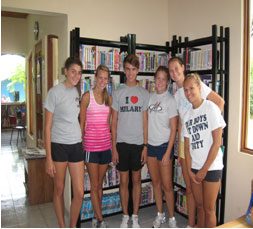 by Beverly Kitson
The 22nd of June saw the arrival of six recent high school grads representing the Youth Program of the Elkhart, Indiana Rotary Club. Along with their three chaperones, the young people worked for three days in the library, organizing and cleaning books and shelves and putting new books in the library inventory.
TIP: Get updates on upcoming Costa Rican Retreats & Events by joining our newsletter. Don't miss out on what's happening around you! Click here.
On there fourth day they came in the afternoon and read stories and drew murals with third and fourth graders, each person drew his/her favorite person, animal, singer, athlete etc. Some interesting artwork resulted and a good time was had by all. This is the fifth year that the Youth Program of the Rotary Club of Elkhart has chosen the Nosara library as their public service project. We are very thankful for their continued interest and support.