Eco-Conscious Travel is Responsible Travel
Day 1: Upon arriving to Costa Rica you will take a transfer to Finca Rosa Blanca, which was awarded a perfect 5 leaves by the Certificate for Sustainable Tourism (CST), thanks to its support of local organizations that strive to create harmony with the environment. Its ecologically sound vision is enhanced by its luxurious rooms and a fine spa where you can relax following a day of exploring the surrounding cloud forest and coffee plantation.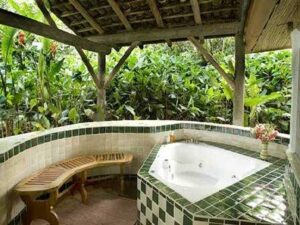 Day 2: Board a flight to the Osa Peninsula where you'll stay at the luxurious and sustainable Lapa Rios Ecolodge (awarded 5 leaves by CST). The hotel is situated amid a private nature reserve overlooking pristine Pacific beaches and has won many international awards for its innovative work toward social and environmental sustainability.
Spend the evening in your spacious bungalow nestled in the rain forest where you can gaze out at the stunning views of pristine nature, while enjoying an outdoor shower or relaxing in your private hammock.
Day 3-4: Your stay at Lapa Rios includes all meals and a tour of the exquisite and remote Corcovado National Park. Come face to face with nature while feeling good about your positive impact on the area. Tours to Caño Island, deserted beaches and fishing charters are also available.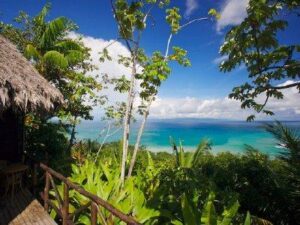 Day 5: Take a quick flight to Quepos today on the Central Pacific coast for your transfer to the Arenas del Mar Beach Resort in Manuel Antonio, host to fantastic ocean views and a vast natural property.
Day 6-7: Enjoy Arenas del Mar's secluded location amid verdant nature. The hotel is not only gorgeous, but it also pays special attention to the practice of sustainable tourism with an emphasis on the well-being of the local population and habitat all while delivering first class service and accommodations. Fine rooms, a fantastic swimming pool and Jacuzzis guarantee that your stay will be a memorable one. Enjoy sunbathing on the beach or treat yourself at the resort spa as the friendly staff cater to your every need.
Day 8: Enjoy one last domestic flight back to San Jose today where you'll spend another night at the Finca Rosa Blanca. Take the opportunity to explore the hotel hiking paths or take a tour of the coffee and citrus fruit plantation as you take in the gorgeous views from the hilltop location.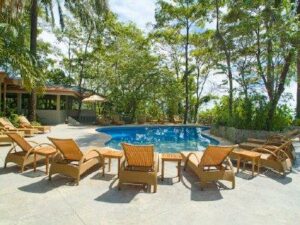 Day 9: Your stay in Costa Rica has come to an end. Today you will take a short transfer to the San Jose airport where you will await your international flight home. You should feel quite proud of having left a minimal ecological footprint thanks to choosing this eco-friendly jungle exploration tour.
Price: $2,100 to $2,500 per person
*Prices reflect current low season rates and are subject to change. The price you are quoted by our sales representatives will be 100% accurate based on the exact time of your inquiry. Price is per person, double occupancy accommodation and includes: all taxes, domestic transportation, tours and hotels. Price does not include international airfare, optional travel insurance, or credit card payment service fee.