About the Southern Zone
Costa Rica is a country recognized as one of the most bio-diverse places on Earth, and the Southern Zone is the most diverse area within the entire country, in geography, climate, wildlife, culture and social life.
Enter the Southern Zone and discover unusual scenery highlighting untouched nature merging with astonishing wildlife. A wide number of species of mammals are found within this region.
You can wander through several national parks, swim in natural waterfalls, observe dolphins and whales with their babies, or relax on the miles long sandy beaches and listen to the waves. With palm trees swaying in the wind, providing shady relief from the intense Pacific sun, it may seem surreal that this environment is as pure as it appears.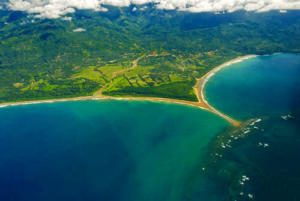 For a less crowded beach vacation, the charming hamlet of Uvita might be the perfect destination. In this area you won't have to fight for a little space to lay your beach blanket down in the sand. Enjoy the power and beauty of the sea while swimming or surfing the waves, without seeing a single person. The beaches seem endless and untapped.
Uvita is located between Dominical and Ojochal. It is regarded as the heart of Ballena Marine National Park, named after the Humpback Whales that migrate there every year between December and April. During the last few years, Uvita experienced a huge increase in population. Once the place was considered remote, but recently numerous food stores, banks, doctors, Internet cafés and a blossoming culture have set up.
Benefit from your visit to a foreign country by learning something about the traditions of the locals and visit the indigenous people. The availability of local handcrafts still present in this area is something that will make the trip unique.
Highlights of The Area
If you get tired of the hot beach, spectacular waterfalls with refreshing cool water are waiting for you right around the corner. One of them has a rope jump ready for you to bounce right into the natural pool. Another one offers a 200 feet-deep swimming hole for cliff diving, for those who are looking for an unforgettable adventure.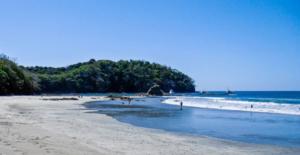 This area also provides four of the most famous National Parks in Costa Rica. Manuel Antonio National Park, Corcovado National Park (which is number 4 of the world's most beautiful parks according to "National Geographic"), Ballena Marine National Park and the great National Park La Amistad.
Contribute to the wildlife and environmental protection of this area by joining one of the many volunteer projects – for example the Reserva Playa Tortuga, where over 5000 baby turtles are being released every year. Work with the conservation team, patrol the area on nightly beach walks, dig out the nests carefully, transport the eggs back to the station and see how these endangered species survive.
The Biological Nature Reserves protect the natural state of this area and the living environment of many wildlife species. Originally, the reserves were meant to make way for cattle ranches, but the owners and communities offered resistance. Otherwise, all of that natural heritage would be gone by now.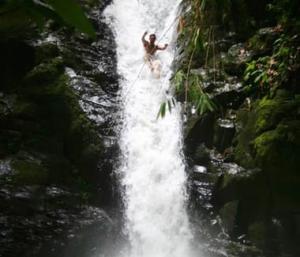 Depending on what you're up to, you can settle down in one of the small little cabins or hostels in the region, or, if you want to experience something really special and don't know where to start, let TJ Costa Rica Journeys design an individual package that suits your pace, lifestyle, interests and budget. This is a luxurious all-inclusive location, perfect for your next vacation, business conference, family reunion, yoga-, writers- or personal-growth retreat, or exclusive wedding event.
The Arrival
My colleague and I tried it all out for you. Two young girls discovering the jungle – that's what we thought as we left from San José to Uvita and the bus dropped us off in the middle of nowhere…
But then, like a light at the end of the tunnel, a tall, blond woman with a warm and lovely smile appeared – this is where our journey began.
She took us to the private protected Biological Reserve, where we settled in a room with a wonderfully comfortable bed, two bathrooms and a nice balcony overlooking the ocean.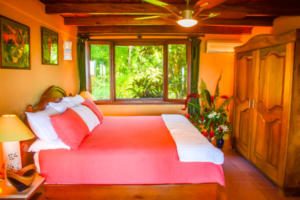 Terry and Jannette took care of all the details, and arranged three glorious days without even knowing us before. They made us feel home and welcome from the very first moment, they went out and spent time with us and left us alone when we needed some private time.
After the exhausting seven hours bus journey we were offered tasty pasta for lunch right down at a local beach restaurant and had the chance to forget all the stress on a relaxing walk along the empty beach. Then we were shown around on the wide-ranging territory and told a little bit about its history.
The Property
The property of TJ Journeys Reserve is the only of its kind in the Southern Zone. One day, the current owner took a walk along the beach and instantly fell in love with the view of the buildings nestled in the jungle above. Initially he had a vision of luxury and unique architectural features, so he started renovating them, to match his imagination. The property now extends over 75-acres surrounded by a pristine protected Biological Reserve.
Located on a small cliff, over-looking the Pacific Ocean, extraordinary views all day long are guaranteed, including impressive sunsets every evening.
Guests can enjoy the spectacular view sitting on their own private deck, or access the beach below in an easy 5-minute walk down the road.
Various activities are possible on the private ground and highly qualified guides can hardly wait to take you on a relaxed bird watching tour or an unforgettable adventurous night tour to see animals that won't appear in daylight.
There are four different kinds of rooms to recover from your daily adventure. You can decide whether you prefer a Jungle Room with an upstairs bedroom and downstairs sitting room, a cozy room with private ocean-view deck, or an easy-access room if stairs limits you. You will have exclusive use of the whole property to have a private get-together with friends, family or whomever you like to bring. You won't see any employees, the housekeepers work quietly and don't disturb you at any time.
There is also a lounge area to wind down at the end of your day, and a fully stocked kitchen if you like to prepare your own food, otherwise you can lean back and let them serve you.
The Beach Experience
The next morning we had an amazing breakfast with fruits, bread, coffee, croissants and cake. Then took a walk down to the beach, watching the tide and parrots in the wild.
Your package can include a selection of activities, specifically tailored to your wishes, for example a day tour to one of the national parks, a Cano Island Snorkeling Tour, a whale watching tour, and many more …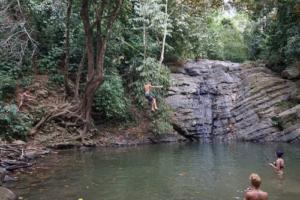 We decided to go to the waterfall Cascada El Pavon, where we could refresh ourselves from the hot morning at the beach. We went for the relaxing package, but you can also participate in surf lessons, sport fishing or a Zip Line Tour – just express your idea of the perfect holidays and you will get it! Jannette and Terry will do their best to make your wish come true. Janette once operated a tourist information office and knows all the secret places to discover in the area, and Terry is a professional wedding planner, event manager and business conference designer, so you can expect an event that you'll never forget.
They also took us to beautiful places to have lunch and dinner that we wouldn't have found on our own. This is the benefit of having someone around who knows the area.
For example they took us to the Bamboo Room, where we enjoyed some vegan lasagna with live music and a perfect view over the jungle in its night-time silence.
For such a small corner of Costa Rica, there is a surprisingly high number of activities to try out and enjoy. No matter what you are interested in, how high your skill level or willingness to try a new adventure, this region has something that suits you.
Try surfing or polish up your proficiency – this region is famous for its surfing spots. Not the waves you would see in places like Hawaii, but consistent surf conditions almost every day and all-year round.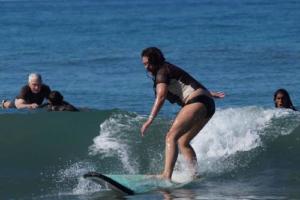 On our last day, to add something additional to the new memories, we visited the weekly market in Uvita, tried some of the fresh fruit and regional food, and looked over the local artwork and handmade jewelry.
As you can see, no matter if you are a writer or photographer looking for new inspiration in quiet and peace, or you want to work yourself out in daylong activity tours, whatever you like to do on your holidays is possible. The more details you can give about your vision, the better it is. Whatever you can imagine, Terry and Jannette will meet your expectations. Come to relax, find inspiration or enjoy activity, let TJ Costa Rica Journeys take care of the details while you create the memories!
Dominical is famous for the expat health conscious community, finding organic produce is easily available from the organic market Mama Tucan's.  You can also find a variety healthy beverage options from Follow Your Bliss Specialty Drinks a distribution company that supplies local café's and markets with organic cold pressed juices, kombucha, chaga tea and organic ginger beer just to name a few.  They also offer juice cleanse packages for individual's and the surrounding retreat venues.
For more info on healthy beverages you can contact Natashia at [email protected] or +506 85634964