Costa Rica has been positioning itself worldwide as the ideal fishing paradise. And it is that its tropical climate allows this activity throughout the year. In addition to having 1,300 kilometers of marine coasts in the Pacific and the Caribbean, beautiful lakes and hundreds of rivers.
One of the main advantages of carrying out this recreational activity in our country is that being a small country it allows you to do fresh and saltwater fishing on the same trip since the distances are short between fishing sites, so you can combine various destinations in a short period. In fact, with a domestic flight of only 40 minutes or less, fishermen can travel from the Juan Santamaría International Airport to the best fishing destinations in the Pacific or the Caribbean.
What type of fishing is done in Costa Rica?
In Costa Rica, marine, river and lake fishing can be carried out. Underwater fishing is also practiced both off from on the coast or at islands, islets, and reefs. This practice is a great attraction in the country.
Lacustrine fishing can be done both in natural and artificial lakes. As for river fishing, this is the most practiced and popular here. As it is well known, Costa Rica is being an Eco-conscience country certain fishing rules like fishes sizes as well the capture and release modality.
Some of the best places to practice recreational fishing.
Undoubtedly, sustainable fishing can be done in many places of the Costa Rican territory, but some will give you great moments, here we will mention some of them: Golfo de Papagayo, Golfo de Nicoya, Corcovado, Cabo Velas, and Golfo Dulce, Punta Mona, Punta Cahuita. All these places are popular tourist destinations thanks to its beautiful beaches and resorts that are located here. For fishing, it is recommended you go between May and September when the catch is most abundant.
Herradura Beach, located in the north of Jaco, has a port built specifically for sport fishing. There is a tourist operator in charge of taking tourists through the points of greatest fishing interest. The Manuel Antonio-Quepos area is spectacular and if you are looking for Marlins here you can find them without difficulty. Also, in this place, you can enjoy observing dolphins, sea turtles, and even whales.
Puerto Limón is ideal for river fishing, especially the channels of Pacuare, Tortuguero, Matina, Caño Negro, Río Parma, and Río Frío. Guanacaste is ideal if you want to organize larger fishing expeditions, here you can contract yachts of all kinds, to take a combined tour that includes areas of interest such as Carillo, Garza, Samara, Nosara or Flamingo.
What are the species of fish that inhabit Costa Rica and on what date can I find them?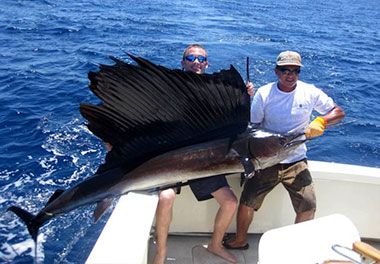 1. Marlin: You can find them throughout the year, but in the months where they are most abundant is from mid-November to early March.
2. Sailfish: This species can be found throughout the year and its high season is from May to August.
3. Tuna: The peak months for this species are usually between August and October, although it can be found at any time of the year. Yellowfin and bigeye tuna over 350 pounds can be found on Catalina Island, 30 minutes or less from the beach.
4. Dorado: These colored tahúres are more abundant from the end of May until October when seasonal rains flood the rivers forming debris lines near the coast under which they like to swim.
5. Wahoo: This species is found in a limited number throughout the year, and its best moment is from May to August. Most are captured around rocky points and islands, but it is possible to find them occasionally on the high seas as well.
6. Roosterfish: This species can be found throughout the year, but more easily from October until March, in the area of the Papagayo Gulf and around the islands.