Meet Eduardo De Saboia. I love how that rolls off the tongue. Eduardo De Saboia…. I met him when I finished my run my third day here. As usual, the beach was almost void of people. As I was walking to my exit path I see this cool cat sitting in front of me. How could I not say hi? Seriously, look at him!
Eduardo
We introduce ourselves and start connecting. He's from Brazil with a great accent. He tells me he left Brazil because of all the bad things that are going to happen there…tsunamis, earthquakes etc. I'm intrigued…. He goes on to tell me he knows these things because of there's a famous guy in Brazil that told him. Some football player that had a near death experience when he was 18 after he hit his head on the goal. He was in a coma for a long time and while in the coma he was visited by "beings". They told him that they were sending him back here to live but he had to make a choice: go back and not remember the encounter and live a "normal" life or go back blind but with better vision(or knowing) than before. He chose the latter. When he woke up he got right out of bed like nothing happened and knew exactly where to stop to avoid running into people and other things. "He just knew," he said. Since then he has helped predict events and sickness in people from all over the world. He's helped thousands over the years. He's now in his 50's he told me.
Eduardo then tells me that this man told him he needs to travel and find people with the plants….that plants will help save our world. He tells me that he's really into plant medicine and then I hear him say something about Dharma. I didn't even hear what it was because I was just shocked at what I had just heard!!This guy was talking a mile a minute but I threw my hand up and said "Wait. Please let me stop you(laughing in shock) I just did an Ayahuasca ceremony last night and guess what my intention was for the ceremony??? To discover my Dharma!!!" For now, I know my path is sharing this plant medicine(ayahuasca/yage)with whoever feels called but it is not my Dharma in life….I don't think. Eduardo didn't miss a beat and dove into it more. He wasn't shocked. It was simply confirmation of why we had just met and us both being in the right spot.
We spoke of many things…including his badass sunglasses. He made them himself. They're sterling silver and I loved them! He makes amazing jewelry too! He lives on the little road on my walk to the beach. I remembered seeing him outside his house the day before sitting in front of an entire tree root system. He said he found it on the beach and is sanding each root to make it even more beautiful. What a special soul. And he can't stop talking. Haha. He's so excited about life! He's a master woodworker and has so many ideas and inventions. His passion for life is infectious!!! He told me that he had his spiritual awakening 25 years ago. I could feel the excitement of how happy he was to be able to finally talk about all the things that matter to him with others that are awake and share the same zest for life and creating a new world. He said, "There's so many of us now.". And he's right!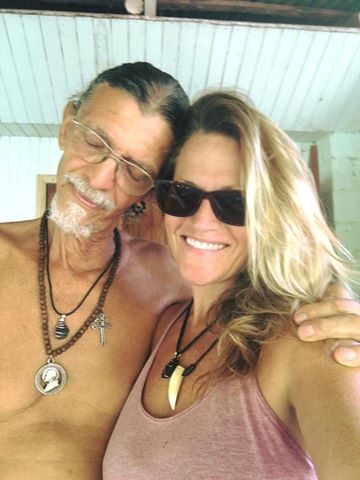 I was heading to Samara to go to the beach with friends. We stood up and hugged. Not just a regular hug but a full on a heart to heart, twenty-second, synchronized breathing hug. I walked away with a huge smile on my face. I've spent a lot more time with him since getting to know him and hearing about his amazing life. He invited me to stay with him for a few nights in his extra bedroom because there was mold in the room I was staying in. Of course, I accepted. I am so grateful for my connection this man. I left him yesterday to come to the resort where I'm holding my Shamanic Sisterhood Retreat. The goodbye was emotional. Each time I leave I am gifted with that hug. I feel so honored to know him and his heart. God bless him and the seeing blind man in Brazil!
By
Keely Spell
– To learn more about Keely and her travels visit her
Facebook Page
!