Progress is a wonderful thing, it makes you think back on how fast it goes. Five or six years ago the smartphone era started and now we can't settle for less than HD quality screens. Laptops are cheaper than ever and electric cars may actually fill the world. Likewise, this also happens with cycling technology, where lighter and stronger materials are the trend, the metal era seems old.
Even if technology goes fast, some people don't get left behind, like Mariana Brenes and Greivin Fallas. These two represent the PYME – stands out for small and medium scale enterprises – Difacom. This small company reconstructs bike frames using carbon fiber. This lightweight material is mostly used for racing and competition bicycles.
Entrepreneuring takes a lot of courage and even more in a country with a stable economy. However, the bike doctors – that's their name on social media – chose to think out of the box. Last year the couple attended the Cyclitech 2016, a world cycling congress that shows the latest advances in the business. They definitely stood out from the rest because they were the only representatives from all of Latin America.
Difacom's work and edge on business
What the young couple learned at last year's Cyclitech was that their work is unique. In the cycling world, when the frame suffers structural damage, using a carbon plate is the solution. The plate adheres to the frame and that's it, Difacom works differently from the rest of the world. Mariana Brenes explains that they evaluate the product and build the necessary piece for replacement. "We work in a more formal way in frame reconstruction", she adds.
The reason Brenes and Fallas started their business is to reduce costs of professional cyclists. Brenes says that the frames are very expensive and when one breaks out, normally they can't be repaired. The window of opportunity opened for the Costa Rican engineer and hasn't looked back since.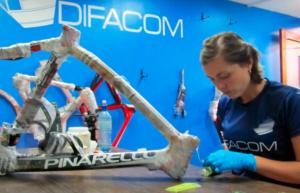 Lately, the couple's got their hands full, they have an approximate of 20 frames per month to work on. "There's a lot of demand and we're busy all the time", says Fallas. Since Difacom started, they've reconstructed up to 600 frames. Their clientele varies, but work is never too much for the Pyme that is in a league of their own.
"It's like reinventing the frame curating process, but in our case, is not industrialized", Fallas comments. He also says that even though they lack big machinery, their work is top notch and very thorough. The Costa Ricans made such and impression at Cyclitech that other business may adapt their model and way of work for developing companies.
It's been a long long cycling road
Greivin Fallas and Mariana Brenes go all the way back to High School at Cartago. They kept contact during the university and chose different paths. Life would put them together again as they merged their knowledge together and made a business out of it. Mariana graduated as a material science engineer and Greivin as an aeronautics technician. They accomplished a right-people-at-the-right-time scenario with Difacom and now it's paying up.
In April 2015 they officially started the company at Greivin's house. With reduced space and lots of dreams on their heads, the couple began their journey to unprecedented success. The next steps were the Expo Pyme, where small and medium entrepreneurs exhibit their work. There, they contacted the Enterprise Incubation Center of the Costa Rica Technological Institute where they established themselves ever since.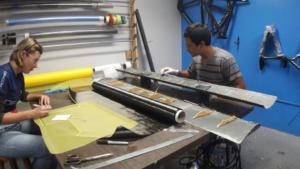 Things really elevated when Difacom received an invitation from the JEC Group. This organization keeps track on the development of the latest composites and technology advances for materials. The JEC invited the Costa Rican Pyme for the 2014 congress and the Difacom story spread out to the world. JEC is the same organization that plans out the Cyclitech, so Mariana and Greivin's name speak for Costa Rica.
At the end of 2015, as a part of a progressive growth process, Difacom landed their first big contract. The Costa Rica Touring Car Championship hired the Pyme to build pieces for racing cars. The auto event happens six times a year in Costa Rica at Parque Viva, La Guácima.
Lately, they were hired by a prosthetic company, this job required them some precision work. To make this happen Mariana and Greivin hired a specialist on the matter so that the final work was made in the most professional way. Difacom works with more just than bikes now, they work with advanced carbon fiber clothing, glass fiber fabrics, hybrid fabrics, and kevlar.
Where there's a will, there's a way
Mariana and Greivin's work is an example of how two seemingly different things can connect and work together. Their story tells us once again that even opposites can join up and create something great and new. People like you and me need believing more in what we like and love. By doing what we love, there's always a way to make things work.