Apparently, nothing stops paralympic swimmer Camila Haase. The Costa Rican girl won a bronze medal in the 2017 IDM Berlin tournament.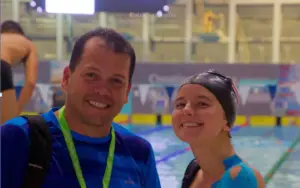 The young swimmer shows consistency and bravery in every competition. In that event, she competed in the 100 meters breaststroke finals (S9 category) and recorded the best time of her life: 1:35,15.
In March, she won a gold medal in the same category during the Parapanamerican Games held in Sao Paulo. She recorded 1:36,33 in the breaststroke category and won three bronze medals in 50 meters freestyle recording 33:45, 100 meters freestyle with 1:14,77 and 100 meters breaststroke recording 1:24,67.
Her last competition was last July 9th where she showed off her skills in 100 meters breaststroke and in 200 meters individual medley. Her goal is to participate in the Swimming World Championship to be carried out in Mexico next September.
His trainer's name is Rodrigo Rivas.