This course is called Recom and is provided by the Panamanian Special Senafront Forces, Panama's border police.
A group of Costa Rican police officers was invited by the Panamanian police to an anti-drugtrafficking training to be carried out in Darien (Panama). According to a report published by the Panamanian police, the training is focused on combating the organized crime and drug-trafficking in the mountains.
The course will last 12 weeks, and 650 continuous hours and is considered one of the toughest trainings centered on patrolling techniques, individual tactics, slipknots, avanced patrolling, and so on.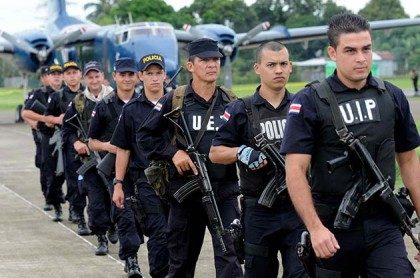 Besides that, they attend workshops based on topics such as international law, human rights, and use of force.
Controversy
This initiative has been controversial. According to some specialists of the Ministry of Public Security, this makes Costa Rican military instruction look weak and incomplete.
"They went to that course to join RECOM (Intelligence-diversionary group), which is the spearhead of the anti-drug dealing movement and international organized crime. The officers trained in Panama will return to Costa Rica with skills and knowledge that will help them step up security. For this reason, we are proud to be 'black berets" – said Oriel Ortega, Senafront Commissioner.
Panamanian High Command describes this course as an ideal training to combat and survive in the mountains.
"This course prepares police officers for highly risky missions, because we are aware of the weapons that drug dealers commonly use" – he added.
Contrary to what some critics believe, the Ministry of Public Education assured that this course aims for other priorities.
"This course aims to give our officers tools for them to be able to patrol in bumpy places, like mountains. We want to make sure that they can deploy safely. We are looking to carry out SAR missions, it means that we want them to be prepared for rescue missions near our borderlines" – said one member of the Ministry of Security.
This video shows a little bit how black berets train in remote places.