Visiting Costa Rica is synonymous with exquisite gastronomy and it is that Costa Rican cuisine has exquisite dishes that highlight the native flavors of each region. Also, its indigenous roots maintain their presence in the typical food; the sacred corn of the ancient gods and the ancient cocoa provide us with a great variety of succulent dishes today.
Costa Rican cuisine is simple, but with an unmistakable flavor and worth trying, you should know that meat, vegetables, beans, rice, and fresh fruits are essential. That is why we will mention below ten great dishes that you should try in your visit to the Tica land.
1. Gallo pinto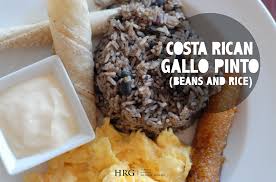 It is one of the most typical Costa Rican dishes, mainly served for breakfast, it is composed of rice and beans, fried eggs – or scrambled eggs – minced meat, planted and tortillas. It is usually accompanied by cheese, natural orange juice, fruit, and coffee. This dish will undoubtedly give you enough energy to begin your adventure.
2. Chifrijol
This is a dish that has nothing light in it, here the Ticos open the doors to calories and combine the flavors of the Chicharrones (deep-fried pork) and beans to create the chifrijol!. This dish is composed of pork rinds, rice, and beans with their broth, tomato, onion, and chimichurri, with banana chips. It is a very popular dish among tourists.
3. Stuffed Chili
This is a basic dish in Costa Rican cuisine based on Chili Pepper stuffed with meat and spices that cooks well. It can be served as a main dish accompanied by rice and salad or in some cases only as an entree.
4. Pork Tamale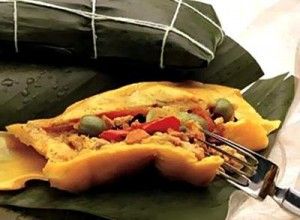 This is a typical dish in Costa Rican cuisine for December, although you may taste it any month of the year if you are lucky. In this dish, the banana leaves are used to cook the pork with a prepared mixture of flour, rice with saffron, beans, and vegetables. During Easter, bean and corn tamales are prepared. They are very laborious and require a lot of dedication (and love, the secret ingredient).
5. Casado
This is undoubtedly the most popular dish in Costa Rica, both for locals and foreign visitors and is considered the national dish. The Casado is made up of beans, rice, red peppers, onion, fried bananas, and meat, this can be chicken, pork or beef, grilled or sauteed and with chips and vegetables.
6. Meat pot
This is the typical soup of Costa Rica and its origins come from the indigenous cultures, the preparation of it has been passed from generation to generation, although the seasoning varies depending on the person who prepares it. The Meat pot has chunks of meat cut into large segments, with potatoes, carrots, cassava, potatoes, chayote, ayote, tiquizque, ñampí, and plantain. All this is simmered in a large pot, hence its name.
7. Ceviche
If you are a fan of fish and marine flavors than this dish are for you. Although it is well known that Ceviche has its origin in Peru, the Ticos have borrowed it by making their version where it is also prepared with fresh raw fish that is marinated with citrus fruits. Normally they do it with sea bass and there is no lack of coriander, garlic, celery, onion, sweet pepper (pepper) and chili pepper. It seems simple, but it is an art to get the exact point that spice's it up.
8. Typical Beverages
If you are a coffee lover, you have reached paradise, and Costa Rican coffee is recognized worldwide for its very high quality. Another popular Costa Rican drink is Chan, this is a Costa Rican recipe: water and seeds of Chan. No more no less, it is said that Chan facilitates intestinal functions and lowers blood pressure.
9. Costa Rican desserts
There is nothing better than finishing a meal with a delicious dessert, which is why within Costa Rican cuisine there are several sweet options that adapt to each taste. These are rice with milk, coconut cajetas, three milk pie and chiverre empanadas (fried dough). The Churchill is a Tico favorite and although it is a drink, its sweet and refreshing character makes it a very sought after dessert.
Costa Rican chocolate is the ideal companion in any dessert of Costa Rican cuisines such as ice cream, dried cakes, Pies and the typical banana dipped in liquid chocolate that you should not miss.
10. Tropical fruits
Fresh tropical fruits are the order of the day in any province or town you visit within Costa Rica. The most popular are: mango, guava, banana, passion fruit, orange, papaya, pineapple, tamarind, grapefruit, among others.