Costa Rican cuisine has an extraordinary variety, thanks to the mixture of European, African and Indigenous flavors that have transcended from generation to generation, giving it that unique and differentiating touch.
Our food is characterized by bringing a series of ingredients and elements that are basic to the Latin American culture, with the difference of including slightly healthier meals, that is, in our meals, fresh vegetables and fruits are always very present.
TIP: Get our latest content by joining our newsletter. Don't miss out on news that matter in Costa Rica. Click here.
Three Costa Rican dishes that unite several continents.
"Tico" cuisine is characterized by a mixture of flavors; this is why here we will mention 3 typical and popular dishes of Costa Rican cuisine that you should try once you come to visit us.
"Casado"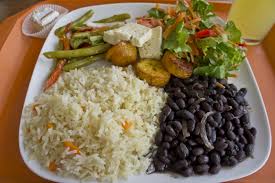 It is one of the most typical and frequently consumed foods of Costa Rica; this dish can be requested at any restaurant you visit in the country. The "Casado" consists of rice with red peppers finely sliced, beans, diced onions, and fried bananas, accompanied with a cabbage salad, tomatoes, and carrots. Also, you can choose the type of animal protein that you want to accompany the dish; it can be beef, chicken, pork, fish, or roasted veal. You can add additional vegetables, French fries, or avocado. In essence, the "Casado" is a mestizo dish that combines the three main gastronomic influences in Costa Rica (European, Indigenous, and African) in a balanced way.
"Olla de Carne"
This essential dish within the Costa Rican menu consists of an extremely delicious broth, made with large and small pieces of meat and vegetables such as carrots, yuca, green bananas, sweet potatoes, chayote, and potatoes. This dish is mostly consumed at lunch and you can request it at any restaurant or market in any province of the country.
We recommend you visit the Central Market of San José, Heredia and Alajuela, which are popular among the people of the Greater Metropolitan Area (GAM) for the preparation of this and other dishes.
"Gallo Pinto"
It is a popular dish served mainly during breakfast in the Costa Rican culture, the history of this dish is the perfect combination of various cultures, for example, aboriginal beans and Asian rice introduced by the Spanish, with other European products such as sausages and dairy products, mix flavors and textures in the same dish. As for its preparation, it is the result of African cuisine. The origin of why this dish is called Gallo Pinto (Colored Rooster), is not very clear, but anecdotally it is mentioned that it arises from the resemblance of the combination of colored beans (black or red) and white rice with a rooster with painted feathers.
Costa Rican desserts you must try! In Costa Rica there is also room for a delicious dessert after an excellent meal, to close your dining with a sweet treat.
"Cajeta"
One of the most popular desserts, it has been prepared since colonial times. It is a kind of nougat or solid candy made by cooking whole milk (both fluid, powdered or caramelized, with abundant sugar, and can be filled or seasoned with a variety of nuts, jams, raisins, chocolate or coffee.
"Churchill"
This is undoubtedly one of the favorites of the Ticos and foreign visitors alike, and although it is a drink, its sweet and refreshing character, make it a very sought after dessert. It consists of crushed ice with fruit syrup, condensed milk, ice cream, and powdered milk. Originally made in the area of Puntarenas, on the Pacific coast, if you come here, do not leave without first trying this delight. It is said that many "Ticos" travel to this area just to drink this refreshing and sweet drink.
"Tres Leches"
This is a dessert that is custom to be eaten after lunch. It consists of a cake made from three types of milk: condensed, evaporated and cream. Its sweet character is also accentuated by a layer of Chantilly cream. The perfect combination!
Costa Rica is the ideal country for your next vacation, either for its incomparable natural beauty or for its unique cuisine. We hope that when you visit us, do not hesitate to try these exquisite dishes, both sweet and savory, we guarantee you won't be sorry!