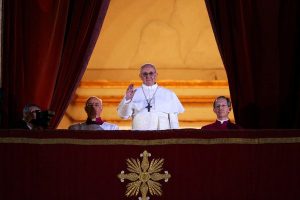 Just over an hour after the white smoke was seen from the chimney of the Sistine Chapel, the window opened from the central balcony of St. Peter's Basilica and amid cheers and applause from the massive crowd gathered, the cardinal Frenchman Jean-Louis Tauran, said: – "I have great news, Habemus Papam", and announced Eminent and Reverend new Pope. as Jorge Mario Bergoglio, from Argentina., the first Latin American to hold the position.
Bergoglio becomes the first Latin American pope, the first pope Jesuit, named in history.
The new Pope, Francis I asked for prayers for his predecessor Benedict XVI, and after, leaving the balcony and wave to the audience in St. Peter's Square. "The first thing I want is to pray for Benedict XVI", he said, then started the Our Father and the Hail Mary.
At the end of the prayers said: "We started this journey … a journey of love, brotherhood, always pray for one another, pray for the world, we hope that this path now begins to bear fruit for the evangelization of this beautiful city".
There is already much excitement on Costa Rica social media sites, and many Costa Ricans, welcome the new Latin American Pope, Jorge Mario Bergoglio as Francis I.
The Costa Rica News (TCRN)
San Jose Costa Rica