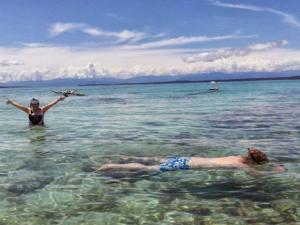 Day Tour's are a main staple of the Costa Rica vacation and you can enjoy them every place you visit, whether in the mountains, beaches or even the city.
Wherever you find yourself on this year's Costa Rica vacation there are many tours that allow you to learn more about the wonders and attractions of Costa Rica.
Day tours are ideal for those who do not have much time to travel or who have to stay in one place while in the country.
TIP: Get updates on upcoming Costa Rican Retreats & Events by joining our newsletter. Don't miss out on what's happening around you! Click here.
In the Central Valley will find many options, from cultural tours (museums, coffee, natural history) to adventure. For example, one option is the Poas Volcano, this site has one of the largest craters in the world. You can also combine this tour with a visit to the villages of Sarchí (famous for its local crafts), or La Paz Waterfall Gardens.
In the heart of the Capital, you can also go to the National Museum will be open Tuesday through Saturday, from 8:30 am to 4:30 pm and on Sundays from 9:00 am to 4:30 pm and the day admission is free , other days the ticket will cost 1,500 colones. For foreigners, the entrance fee is $ 8, children under 12 and adults over the entrance is free.
On the other hand, if you prefer the beach you can visit the Central Pacific. This region extends from the city of Puntarenas to the mouth of the Baru River, in an area known as Dominical de Osa, has three interesting cities and tourist development Quepos, Jacó and Puntarenas. Among the beaches you can visit are Tárcoles, Punta Leona, Herradura and Jacó.
If your Costa Rica Vacation choice is in the Caribbean, Limon Playa Bonita is located 5 kilometers north of the city. This site is easily accessible, is a beach with strong waves ideal for surfers. It is surrounded by lush tropical vegetation, especially the coconut trees that give a special beauty. Because of its beauty and proximity to the city of Limon is the preferred site for residents and tourists to enjoy the sea. On the beach there are many different activities such as concerts and surfing tournaments.
No matter where you choose to go on your Costa Rica vacation make sure to take some time and enjoy the many activities and sites day tours offer.
The Costa Rica News (TCRN)
San Jose Costa Rica