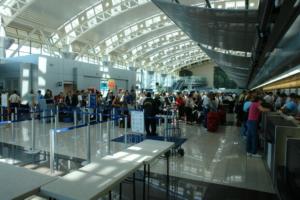 San Jose – Costa Rica continues to be one of the preferred destinations for tourists in Latin America.
TIP: Get our latest content by joining our newsletter. Don't miss out on news that matter in Costa Rica. Click here.
Reports provided by the Directorate General of Immigration (DGME) and analyzed by the Costa Rican Tourism Institute (ICT) indicate that Costa Rica received 1,285,599 international visitors during the first six months of the year, which represents an increase of 7, 4% over the same period in 2011.
The airports report the largest number of arrivals (70%). A total of 856,672 international visitors arrived by air, 50,021 more arrivals in comparison with last year. This number represents a growth of 6, 2%.
Juan Santamaria International Airport had 655,530 arrivals, while Daniel Oduber International Airport in Liberia received 198,913 arrivals, an increase of 26% in comparison with 2011.
The majority of visitors came from the United States, Canada, and Mexico.
For Allan Flores, Minister of Tourism, the rise in arrivals by air reflects the hard work that has been done to attract new airlines and increase the frequency of flights, which has resulted in an increase in the number of seats available to our country.
The ICT has an information system that allows the monitoring of several indicators of the tourism sector, many of which are available on its website. This system indicates the number of international arrivals by air, sea, and land during a given period, which is obtained from the data provided by the DGME.
According to Flores, this is a general indicator endorsed and recommended by the World Tourism Organization (UNWTO), which measures the level of growth or decline in tourism for a country as a whole. The purpose is to establish an objective measurement of the tourism activity in Costa Rica, as well as make comparisons with other regions.
In addition, the ICT provides classified information about tourists such as nationality, reasons for traveling, lodging, expenses, and other activities, which is gathered through surveys given to travelers in all different ports of the country.
This information helps entrepreneurs, researchers, and experts prepare market studies.
The Costa Rica News (TCRN)
San Jose Costa Rica