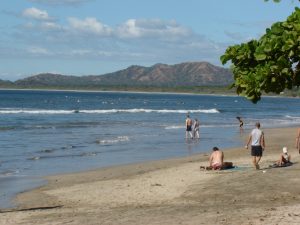 The Costa Rica News (TCRN) – The tourism sector in Costa Rica is optimistic about the current high season revealed a survey by the National Chamber of Tourism (Canatur).
The study indicates that 59% of tourism businesses consider this high season, from December to late March, to be better than the last, while 34% believe it will be equal to, and 7% the expect for it to be worse.
"There is a greater volume of tourists entering the country, who will need various services like hotels, tours, restaurants, car rentals," said Canatur President, Isabel Vargas.
The representative stated that the industry continues to attract more tourists to Costa Rica and the government must "take on challenges in security, infrastructure and other sensitive issues."
Regarding employment, the survey indicated that 70.2% of respondents did not hire more staff, while 26.8% did open new jobs and 3% reduced staff.
"We are a sector strongly affected by the high cost of energy bills and operating costs, so employers are very cautious to open jobs. Companies that have managed to recruit because demand is high this season urges them to do so, "said Vargas.
Costa Rica is a country of 4.7 million people each year receives more than 2.3 million tourists, attracted by the natural beauty and rich biodiversity totaling 4.5% of the globe.
Tourism directly employs about 150,000 people, another 400,000 indirectly, and generates around 2,200 million dollars annually. (EFE)
The Costa Rica News (TCRN)
San Jose Costa Rica