Costa Rica was a hard place to get to in 1963. When my parents and I took the Pan American Highway from San Antonio to its capital of San José that year, it took a week of difficult driving. Forty-nine years later, my travel time — including a brief layover in Houston's George Bush Intercontinental Airport — had telescoped to seven easy hours.
On my first visit, San José was shrouded with cinders belched by a nearby volcano, Irazú. Street sweepers, looking like a scene from "The Sorcerer's Apprentice" in Walt Disney's "Fantasia," piled ever-growing mounds of dark gray ash. Pedestrians covered their faces with cloth for protection. We drove outside town to see the culprit and gazed into its maw. Clouds of smoke billowed to the highest heavens. Every so often Irazú coughed up a car-sized boulder.
TIP: Get updates on upcoming Costa Rican Retreats & Events by joining our newsletter. Don't miss out on what's happening around you! Click here.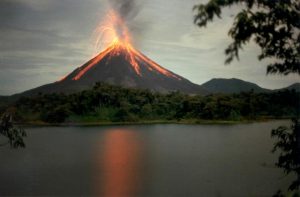 Tourists who go to the sleeping behemoth today will see crystalline blue water in its throat and a cloak of vegetation scattered about the black perimeter. But if it's active volcanoes they are seeking, others are not far away. We visited two on our weeklong stay: Poás and Arenal. At Poás, the clouds parted long enough to reveal a turquoise lagoon and, above it, the trail of sulfurous steam we had been smelling. Along the path up, we came face-to-face with a small short-quilled porcupine and admired plants with huge wrinkled leaves dubbed "Poor Man's Umbrella."
We were not as lucky at Arenal, famous for rivers of molten lava and eruptions that light up the night sky. Not only was it not performing, it was shrouded with clouds the night and morning we were there. But our regret was salved by a soothing soak in steamy thermal waters piped from below the cone. We were moving into the motto of this West Virginia-size country: Pura vida. If something disappoints, a pleasure awaits.
Forty-nine years ago, jungle tours were not an option (we had asked). Now, tourists flock to rain forest flora and fauna via zip lines, river rafts and walking trails. We had the opportunity to do all three — and more — at Hacienda Pozo Azul, an eco-lodge only a half-day drive from San José.
Hacienda Pozo Azul is owned by José Alberto Quintana, a University of Texas at Austin graduate who in 1970 bought some 700 acres of land along the Sarapiquí River. After retiring in 1997 as head of the Central American division of Coca-Cola, he created a place where guests can experience the jungle without leaving a footprint.
"We wanted to keep aligned with sustainability," he explains over a heart of palm salad served at the rustic lodge he built from local timber. Down the road, guests stay in 30 elevated canvas tents clustered in the rainforest. A roof above each zip-flap tent protects from falling branches. Inside are two double beds and a telephone, but no television. Wooden front porches add to the ambience. Attached baths afford the opportunity for a shower, albeit at no warmer than an eco-friendly 103 degrees.
Recreational options at Pozo Azul include river rafting, canopy walks, rappelling, nature hikes and horseback riding. We opted for the less rigorous raft ride, with class one rapids. Afterward Quintana took us on a tour of the area set aside for experimental reforestation and organic gardening. A variety of native and non-native trees have been planted by research institutions. Black pepper and vanilla are grown in commercial quantities. Herbs and vegetables ranging from cardamom to chayote squash are grown for use at the restaurant. Fermenting liquid fertilizer bubbling in barrels is made with a Japanese-inspired mix of molasses, with leaf litter from the jungle floor and chemicals as needed.
Tourists with a taste for a more upscale experience can visit (or stay at) the nearby Peace Lodge, adjoining the La Paz Waterfall Gardens. We stopped at the gardens for a sumptuous open-air buffet lunch and a stroll along a waterfall-lined trail through orchid and hummingbird gardens, a butterfly room filled with iridescent blue morphos in various stages of development, a bird enclosure with friendly toucans, and exhibits of snakes, lizards, frogs, monkeys and jungle cats. The Peace Lodge features private balconies, Jacuzzis, stone fireplaces and waterfall showers.
Within a day's drive from either place along twisting roads is perhaps the most magical spot in the country, high in the mountains. The world famous Monteverde Cloud Forest Biological Reserve is home to an astonishing array of tropical mammals, birds and plants. Lush vegetation, including towering strangler figs and fern trees dripping with bromeliads — all kissed by ever present mist — creates an other-worldly ambience not unlike Pandora's in "Avatar."
The night before we entered the reserve, we took a flashlight tour just outside its borders. Kinkajous and olingos — the latter a mammal I'd never met — gamboled in the treetops as dark descended. The thrill of meeting the olingo, a sleek arborial cousin of raccoons, mitigated the disappointment of not seeing a quetzal the next morning in the reserve. A trio near us did see the sought-after bird, but nevermind: Pura vida. On the way back to San José that afternoon, an unexpected pleasure awaited. In Sarchí, we went back in time in a factory that still uses antiquated methods to build the hand-painted oxcarts that symbolize the country.
Before mechanization, coffee was hauled in these colorful, wooden-wheeled colorful conveyances. The Eloy Alfaro factory, founded in 1923, continues to create carts using a water wheel to power the belt-driven machinery. Red-hot metal rims are fit around solid wooden wheels, then doused with water to prevent the wood from burning and to assure that the metal will contract for a tight fit. Then, cart and wheels are hand painted with traditional designs. The Alfaro family sells around a half dozen of the full-size carts a month as well as countless small souvenir carts as tourist trinkets.
I still use one of the small carts, bought in 1963, as a table centerpiece. This trip, we went bigger. We picked an orange one large enough to serve both as a coffee table and bar, its intended purpose. When it arrives, we plan to while away evenings with it on our screen porch. As they say in Costa Rica, pura vida.
For Travel Discount and Information contact [email protected]
By Mary M. Fisher, For the Express-News