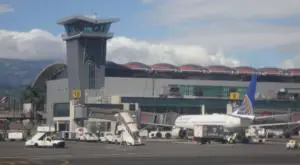 Costa Rica tourism continues to grow in 2012 across all sectors as Costa Rica hotels and Costa Rica Resorts all report up-ticks in numbers.
Costa Rica is the most visited country in Central America, says the report "Turismo Mundial – Perspectivas Setiembre 2012" conducted by Deloitte Panama and presented last Tuesday, September 25th during the XVII National Tourism Congress.
The report, presented by Domingo Latorraca, a partner at Deloitte, states that 8 million tourists visited Central America in 2011, of which Costa Rica received 26% (2, 2 millions), followed by Panama (1,5 millions), Guatemala (1,2 millions), and Nicaragua (1,1 millions).
Latorraca stated that tourism will continue to grow steadily in the upcoming years, especially in emerging countries where it is estimated that tourism activity will grow at twice the rate of developed countries.
In the case of Costa Rica, Latorraca indicated that it is a small country, but "with great potential, it is a destination that still has a lot to offer, which is a key factor for the [tourism] sector."
Last year, Central America reported an estimate of $7, 200 millions in tourism revenue, which represents 3, 6% of all the earning generated in the Americas, according to Deloitte's report.
Although Central America attracted only 1% (8 millions) of all travelers in the world (983 millions), that number is expected to increase to 14 millions by 2020.
However, Latorraca said that Central America must work on aspects such as infrastructure of roads, airports and ports, service capacity, specialized personnel, and security in order to consolidate the tourism industry.
The Costa Rica News (TCRN)
San Jose Costa Rica