The Costa Rica News (TCRN) – A look at some of Costa Rica's best destinations, Gulf of Papagayo, Manuel Antonio and Los Suenos.
Now as the most visited country in Central America, Costa Rica was at one time only considered a destination for hard core adventurers and back packers. Now Costa Rica has become a destination for everyone, from family vacationers, to extreme adventurers, environmentalists, and a place to retirees or people looking to reinvent themselves living abroad.
Prior to the 2000's, apart few business class hotels in San José, there were only a few isolated luxury resorts and properties, travelers had little in the way of luxury comfort when visiting one of the most beautiful and eco-conscious locations on the planet.
But over the last ten years Costa Rica's has seen a large number of luxury hotels and resort communities spring up, with marinas, golf courses and world-class facilities and service.
Most of Costa Rica's destinations are green focused with the Sustainable Tourism Program rewarding environmentally and eco friendly destination with a rating system and extensive free publicity.
Here are three of best regions to visit if you are looking for comfort, attractions, accessibility and experience.
Gulf of Papagayo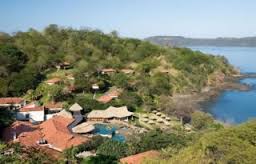 Considered Costa Rica's most luxurious locations is Papagayo, with pristine beaches, Papagayo Peninsula has been developed into Central America's premier luxury destination in the northwestern Guanacaste Province.
Apart from unprecedented beauty, accessibility is one of key driver with the international airport (LIR) just minutes away in the regional capital of Liberia.
The opulent and exquisite Four Seasons Papagayo is the premier resort destination in Costa Rica, with everything from golf courses, spas and white-sand beaches and close to some of the region's outstanding national parks and festive beach communities.
For the luxury traveler Gulf of Papagayo is the place for you.
Manuel Antonio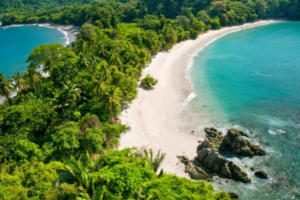 Manuel Antonio is probably the most visited destination with lush tropical jungle hills surrounding Manuel Antonio National Park, and beaches that are considered some of the most beautiful the world, makes this destination a must see.
Located on the Central Pacific coast of Coats Rica, the region is home to several species of monkeys, sloths and tropical birds, as well as a variety of marine life, such as whales, dolphins and sea turtles.
Manuel Antonio has numerous wonderful restaurants bars and clubs, art galleries as well as a large variety of adventure tour operators, including zip lines, jungle treks, horseback riding, fishing, whale watching, to name a few. With an excellent choice of high end luxury hotels and resorts makes Manuel Antonio a honeymooner's favorite.
Los Sueños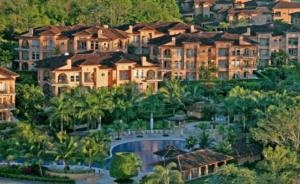 Los Sueños Resort and Marina is nestled in the small cove of Playa Herradura only 1 hour from San José and the country's main international airport.
Los Suenos Resort and Marina is world renowned and known as the Fishing Capital of Costa Rica with a full service five star Marina and the largest fleet of the country's top Big Game Sport Fishing Captains and boats.
Visitors have a choice of staying at the luxurious 5star Los Sueños Marriott hotel or choose from extravagant rental properties.
The Los Suenos Resort and Marina is home to one of the country's best golf courses. The 18 hole, par 72 championship La Iguana golf course offers not only a challenging Ted Robinson designed but stunning tropical surroundings.
Costa Rica has so many beautiful locations to visit it was difficult to pick just three, so in the next installment of Costa Rica Destination of Choice we will take a look at Arenal Volcano, Tamarindo, and The Cloud Forests for our top three picks for vacation destinations
The Costa Rica News (TCRN)
San Jose Costa Rica