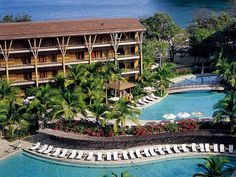 Multigenerational travel is becoming a growing trend in the travel industry, as many families are now including grandparents, uncles and aunts, and other relatives in their family getaway.
Although extended family trips could be uncomfortable or even stressful for a lot of people, other families, however, have seen multigenerational travel as a good option to spend quality time together and foster family relationships, celebrate special occasions and create memories, and of course, share the costs of travel, food, and accommodations.
According to the American Travel Industry Association, more than 5 million family vacations each year include three generations. As a result, families face the challenges of finding a vacation spot that is suitable for everyone, from children to grandparents.
For that reason, VirtualTourist.com surveyed its members and editors for their recommendations and put together a top 10 list with the cities, regions, and countries with enough variety to appeal to people of all ages. And, of course, Costa Rica made it into the top ten.
Costa Rica was ranked 6th among the best places for multigenerational travel by VT members.
The country was described to have a little bit of everything to appeal to different age groups.
According to VT members, Costa Rica appeals to families who are interested in arts and architecture, but it also has amazing rainforests for families with both plant and animal lovers.
For the more active in the group, Costa Roca's rainforests offer zip lines and suspended bridges throughout the canopy, perfect for spotting animals and the country's unique fauna. In addition, there are numerous ways of exploring the terrain, from hiking and mountain biking, to more unique means of transport like ATVs or horseback.
For those who are looking for a more relaxed travel experience, Costa Rica has beautiful beaches on both its Pacific and Caribbean shores, though travelers interested in surfing and waves might prefer the beaches along the Pacific.
Clearly, Costa Rica continues to gain recognition as one of the best places in the world to have a perfect family vacation.
The Costs Rica News (TCRN)
San Jose Costa Rica