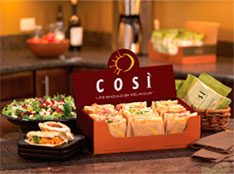 DEERFIELD, IL, Apr 05, 2012 (MARKETWIRE via COMTEX) — Cosi, Inc. , the fast casual restaurant company, today announced that it has entered into a development agreement with a new franchisee, Fast Casual S. A., to develop Cosi(R) restaurants in Costa Rica. The agreement calls for Fast Casual S.A. to develop five locations over five years beginning with their first location expected to open later this year.
"We are excited to be growing the Cosi(R) brand again with our new franchise partners, Fast Casual S.A.," said Carin Stutz, Cosi President and Chief Executive Officer. "I look forward to working with Luis Diego Escalante, Maria Cristina Escalante and their partners to successfully launch Cosi(R) in Costa Rica."
"Costa Rica is a leader in the trend towards healthy eating and we believe the Cosi(R) brand fits well in this category," stated Luis Diego Escalante, Principal at Fast Casual S.A. "I am thrilled to be able to introduce an authentic brand like Cosi(R) to the Costa Rican community where they can experience the unique freshly baked signature flatbread along with the rest of the innovative menu offerings available."
About Cosi, Inc. Cosi(R) ( http://www.getcosi.com ) is a national fast casual restaurant chain that has developed featured foods built around a secret, generations-old recipe for crackly crust flatbread. This artisan bread is freshly baked in front of customers throughout the day in open-flame stone-hearth ovens prominently located in each of the restaurants. Cosi's warm and urbane atmosphere is geared towards its sophisticated, upscale, urban and suburban guests. There are currently 80 Company-owned and 56 franchise restaurants operating in seventeen states, the District of Columbia and the United Arab Emirates. The Cosi(R) vision is to become America's favorite fast casual restaurant by providing customers authentic, innovative, savory food while remaining an affordable luxury.
The Cosi(R) menu features Cosi(R) sandwiches, freshly-tossed salads, breakfast wraps, melts, soups, Cosi(R) Squagels(R), flatbread pizzas, S'mores, snacks and other desserts, and a wide range of coffee and coffee-based drinks and other specialty beverages. Cosi(R) restaurants are designed to be welcoming and comfortable with an eclectic environment. Cosi's sights, sounds, and spaces create a tasteful, relaxed ambience that provides a fresh and new dining experience.
"Cosi," "(Sun & Moon Design)" and related marks are registered trademarks of Cosi, Inc. in the U.S.A. and certain other countries. Copyright Copyright 2012 Cosi, Inc. All rights reserved.