Costa Rica is identified as a country full of love for its culture, generated precisely from the multicultural ancestry. Before talking about the typical costumes, it is important to know a little bit about the history and traditions that originated all those typical costumes are used for both women and men.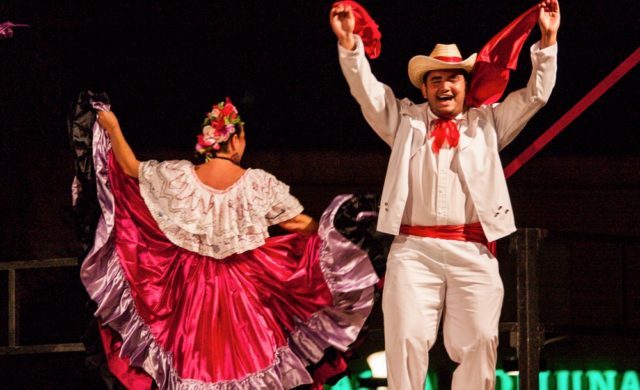 This country is part of Latin America and like other countries in the same continent, they often include in their clothing a diversity of colors, accompanied by an authenticity that makes them be different and widely recognized all around the world.
Costa Rica's society takes into account that the elaboration of its typical costumes must be perfectly made. That is why those costumes are usually based on their cultural traditions.
In the case of women, they use to wearing a skirt adorned with a lot of bright colors, drawing much attention from the surroundings. For the top, it is usual to wear a shirt which reaches the shoulders preferably white since it cannot be as colorful as the skirt so they can stand out at the same time. The hair should be full of showy flowers.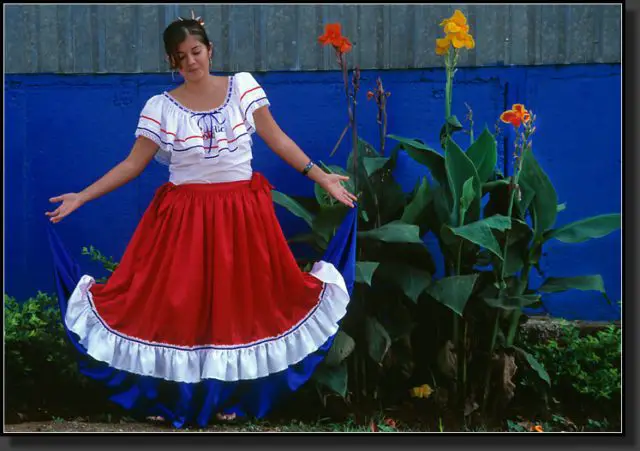 With regard to men, Costa Rican culture focuses on making them look like gentlemen. This is always achieved by placing a completely white suit with a bright color handkerchief that attracts a lot of attention.
The typical Costa Rican costumes demonstrate how friendly this culture is, through the chosen colors that will highlight all the typical costumes that exist.
Typical costumes always keep the features of the ancient indigenous tribes that populated this territory. Costa Rica has an extraordinary wealth of cultural manifestations, legends, popular festivals, music, local traditions, and dance. All that is an important part of the nation´s identity.
When one refers to a typical costume of a country, it goes hand in hand with other important aspects of the culture like its meals, the way of speaking, expressions, customs, symbols of identity, flags, dances, and so on.
Much of the typical costumes of the country are used in specific scenarios: festivities, carnivals, or other events that commemorate facts of the history of Costa Rican society. Let's mention some examples:
Province of Guanacaste. The typical costumes of this province will depend on the celebration and have evolved according to their history. However, one of the most common dances is the Batijuela, with costumes characterized by its abundant lace, high hairstyles divided according to the age of the ladies taking part. The younger wear a blanket; the older ones put on a pair of pants.
There is no variation to the typical costumes of Costa Rica for men. In general, it is practically the same with a red scarf, but without a hat.
Province of Puntarenas. They maintain a classic range of clothing brought from colonial times. During Holy Week they were characterized by a scarf full of sequins and bright colors
Province of Heredia. This province differs from the others because it does not use lively colors like the others, instead characterized by using dark and opaque colors. Silk and cotton is the ideal for their clothing. This fabric can be either unicolor or printed. The type of dress of Heredia is extremely conservative, distinguished by having details with buttons,
Province of San José. Women often use many decorations in their hair, which they wear with natural flowers. They usually identify themselves by including colors like purple and white, while men are dressed in black.
Province El Limón. They usually use turbans made with colored fabrics, this is an essence of the Afro-Caribbean garments, and the rest is very similar to the typical national costume.
Women wear white with colorful fabric ornaments. A turban is always worn in carnival dresses, the skirt of high flights up to the ankles, elastic at the waist. Men are accompanied by a machete, a kind of long knife, a colored belt, cut down pants and leather shoes.
Cartago. Some of the costumes were brought from Great Britain, adorned with fine laces. Men wear ties of canvas, jackets or vests, and hats in white or black.
Reliquary
Known as an indispensable part of the national costumes of Costa Rica, it consists of a burgundy colored ribbon, the function of which is the same as a usual string. Most women used this as a symbol of love, as they carried pieces of hair of their loved ones inside the reliquary.
Garments
They use large rings around the ears, likewise decorating their hairstyles with generally natural flowers. Within the garments, we can mention the selection of underpants with abundant laces and, in the case of women, reaching the knees.