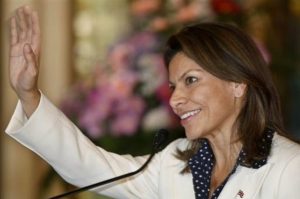 Costa Rica News – The president of Costa Rica, Laura Chinchilla, on the final day of the Summit of CELAC, asked Latin American countries unite to regulate commerce in firearms and to "fight illegal flows north to south. "
"I suggest that as a region with violence problems in some countries, make a conscious effort to be more proactive in upcoming UN conference on trade treaty regarding firearms," Chinchilla said in an address to his colleagues in the Community Latin American and Caribbean States (CELAC) meeting in Santiago from Sunday.
TIP: Get our latest content by joining our newsletter. Don't miss out on news that matter in Costa Rica. Click here.
Costa Rica, a country without an army since 1948, is co-author of "Trade Treaty Arms" along with Argentina, Australia, Finland, Japan, Kenya and the UK, which is discussed in the UN that aims to reduce the number of weapons and ammunition circulating in the world, especially among the civilian population.
"Certainly there are nuanced differences between our countries on the content of the Treaty, but it should be an aspiration shared the curb conventional arms transfers that fuel organized crime in the region," said the president of Costa Rica.
CELAC Chinchilla urged to "articulate a single voice" to the UN on this issue.
"Enough of fighting alone against illegal flows from south to north, we must also address the north-south," he said.
Costa Rica will be, at the end of the Summit in Santiago de Chile, part of the troika of the CELAC, which will be chaired this year by Cuba.
In this context, the president said that "CELAC must be the global voice of Latin America through consensus building healthy inspired idealism, but also work to achieve pragmatic and realistic goals to advance promising horizons."
CELAC Summit, which began on Sunday in Santiago, is the first since the one held in Caracas in December 2011, which was founded and body and attended by representatives of 33 member countries except Paraguay.
The Costa Rica News (TCRN)
San Jose Costa Rica