If your idea of ending the year is by the beach, one of the options must be Tamarindo, specifically "Playa Grande", that is easily reachable. Among the many activities that you can do at Playa Grande, there is kayaking in addition to appreciating the incredible flora and fauna with birds, monkeys, crocodiles and different types of mangroves. The mangroves statuary of Playa Grande is the largest and most important in Latin America.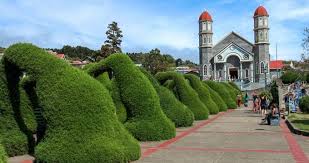 Now, if you rather end the year in mountain terrain, then "Cerro Azul" is the place to go. It is the highest point of the Nicoya Peninsula, it is 1020 meters above sea level and crowned by almost hundreds of antennas, that is Cerro Azul. From the top of Cerro Azul, you can admire the beautiful surrounding landscape of the Nicoya Peninsula.
TIP: Get updates on upcoming Costa Rican Retreats & Events by joining our newsletter. Don't miss out on what's happening around you! Click here.
From Carmona, a ballast road climbs to the top of the hill. The climb can be done on rustic vehicles although not necessarily they have to be 4×4. About riding half an hour you have escaped from the hot climate of Carmona and start to feel the fresh air of the more than a thousand meters above sea level of Cerro Azul.
When you reach the top of the hill, you can see a gigantic soccer ball accommodated on a large metal platform, a sign of the alleged remnants of a state-of-the-art radar that American army personnel installed several years ago to help control drug trafficking.
"Olán" is another magical place to visit this end of the year. Located in the mountains of Buenos Aires in Puntarenas, it is not that well-known place in Costa Rica, but whoever visits it will admire its unique landscape. Olán offers attractions such as the "Chapel in the Clouds", and treks along almost surreal paths or the climb to the Utyum, Arbolado and Kaí hills.
Olán is a small town, where people can forget about their anguish and their watches, some visitors believe that it looks like an enchanted forest full of flowers, wooden huts, and trails that lead to giant fig trees and waterfalls.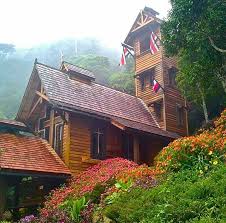 you can reach Olán through the Florencio Castillo Highway towards Cerro de la Muerte, pass through Pérez Zeledón and continue straight to Buenos Aires from Puntarenas, from there follow Los Piñales to the intersection where you have to turn right towards Olán.
But if you are looking for a more spiritually cleansing end of 2019 and receiving 2020 renovated in body, mind, and soul, than "Resonance" is waiting for you. Located at beautiful Playa Lagarto, Guanacaste. This is a special place to connect at the same time with the wonders of your inner-self and our planet. Here you will meet interesting people from all parts of the world that share and are in tune with the interest of spiritual renovation in a comfortable and relaxing environment.