It isn't easy being green. It means taking an ethical approach to conserving, protecting, and enjoying the environment to the fullest extent, while striving to minimize your environmental footprint. In this sense, hotels have to do a lot more than recycle paper and make sure guests reuse their towels to be "green." Drake Bay Getaway Resort, an eco-lodge located on the Pacific Coast of Costa Rica's Osa Peninsula, has gone above and beyond the requirements. The owners have combined ecotourism and luxury in a way that is not found in many places in the world, and their efforts have been internationally noticed; last week, Drake Bay Getaway received the Luxury Eco Lodge of the Year from The Luxury Travel Guide Awards organization. This is a prestigious award that the owners are very proud of.
To us, these awards mean that it is possible to create a luxurious, sustainable hotel, to combine both in an entirely new way. It's something not many have tried before, and for us, it's worked beautifully.
Costa Rica is known for its eco-friendly practices, but this eco-lodge is taking sustainability to the highest level. For those readers that don't know, an "eco-lodge" is a hotel or resort built so that it does not use any toxic materials, cut down forests, or hurt endangered species. The builders of Drake Bay Getaway never cut a single tree down during construction, as the land was cleared 40 years ago for a farm. They didn't use any tractors to clear the land, they built right off the ground and the landscape has been kept completely the same. 80% of the material that was used to build Drake Bay Getaway is recycled material, including galvanized steel and teak wood. They used almost no cement, in contrast to most other hotels in the area.
Aside from the sustainable infrastructure of the resort, they also commit to a wide variety of sustainable practices in their everyday activities. The resort does not have AC, but rather relies on "passive cooling" to keep their buildings cool. They use stainless steel straws, which are cleaned with hot water and clean brushes. They compost all leftover food, and their septic system uses Bio Digester technology to treat the water. To read more on Drake Bay Getaway's commitment to sustainability, we would suggest checking out their detailed page!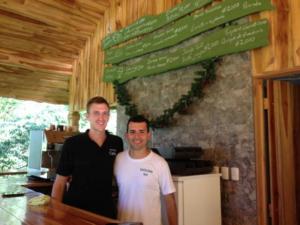 Not only is Drake Bay Getaway a top destination for ecotourism, but it also screams luxurious living and teaches guests the importance of healthy eating. Here, you will find some information about the lodging and food offered at the resort, and a little bit about what makes this place so special.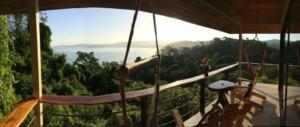 The resort offers 5 cabin options, sitting directly on the beach. These cabins are the definition of luxury.  They each have a large deck with glass sliding doors, from which guests can take in breathtaking views of the sapphire bay, beautiful beach, and tree-topped jungle. If you don't want to go out on the deck, you can still see these spectacular sights from the comfort of your king bed. Each cabin also has a huge bathroom, with dual shower heads and another perfect view of the surrounding area. Guests are known to take long showers, getting lost in the waves of the ocean and the animals right outside the window. There are comfortable bathrobes for each guest, when you finally do get out of the shower. Even more luxurious, each cabin has teak wood floors and ceilings. The teak wood is locally sourced and completes the feel of the rooms.
Included in the cabin packages are 3 meals a day, an appetizer, and as many smoothies and cups of coffee your heart desires. The resort staff promises that each meal will be unique. They will never repeat a meal, even if you're there for 12 days! In this way, they're allowing for you to try all different kinds of food. The meals combine gourmet dishes with local choices, such as rice and beans. The cooks don't use ketchup, mayo, or salsa lizano, and they use very little salt in their meals. They also don't use anything pre-made; they make their own ice cream, bread, salad dressing, and more right on site. The resort will provide for any diet, including vegetarian, pescatarian, vegan, and gluten-free. Lastly, if you're a coffee fan, Drake Bay Getaway Resort is the only resort in the area that has an espresso machine. They go to a Costa Rican micro-roaster for their beans, who doesn't sell to any other stores. Local, Costa Rican coffee is something you cannot miss out on.
Costa Rica is a popular tourist destination for people trying to escape their stressful everyday lives, who want to experience nature and the environment in a way that they never have before. Drake Bay Getaway shows its guests that you can get so much more out of life if you get rid of the things you don't need, which are usually the sources of your stress. Living the pure life, as a friend of the environment rather than an enemy, as a source of peace and happiness rather than stress and anger – these are the things we should strive for. Drake Bay Getaway Resort is a step in the right direction, as it will teach you how to live "pura vida."
To book a room or find out more information, please visit Drake Bay Getaway Resort.
Email: [email protected]
Phone: (506) 6003-7253