"Into the [jungle] I go, to lose my mind and find my soul." -John Muir
Why do we do what we do? Why do we travel? Why do we seek unusual experiences? Why do we want connection to interesting people and beautiful places? To have an experience that immerses us into a new life. To gain a new perspective. To see things most people will never see. To share how different people are living a New Way of Life. To stand in awe at the natural world. To push our boundaries and spread our comfort zone far and wide. And what event could be more unusual to connect to nature, ourselves, new friends and old, than the Avatar Transformation Experience in the Jungles of Costa Rica? With time to explore the jungle, turn into Avatars, and catch the sunset at the beach, we gather for all these reasons and more.
Resonance Costa Rica has opened up their 1000 acre mountainous and jungle land for Avatar explorers!  Everything about this event is special, starting with the VIDA Blue Clay hand-harvested from a remote location deep in the Costa Rica rainforest, hand carried down a mountain for over an hour, and is on a very limited supply.  This 100% natural, organic clay contains no artificial ingredients.  "The Healing Properties of Blue Clay" will rejuvenate and nourish our skin, all while we have a blast covering our bodies!
I get excited thinking about how the day may unfold… cue to whimsical music representing a day dream.
Our group of outer and inner explorers meet and get to know each other over ginger mint elixirs and turmeric cinnamon tea. We venture into the jungle talking along the way about who we are and what we do. We stop at a creek to cover ourselves and help our new friends with the bright blue mineral clay. We paint details in the light brown colors, stripes across our face, ridges across our muscles (or make-believe muscles), and geometric symbols along our bodies. We are no longer the person we just described on the way here. We are our Avatar persona, light and fun, strong and brave, or catlike jungle explorers! One Avatar begins to feel his new persona and jumps from one rock to another, enjoying a new sense of personal freedom.

Photo after photo is taken of live action scenes of people getting painted, Avatars crouching in the river's cool water, incredible group shots of bright blue foreground with lush green background, and portrait shots of each person. No one is here only for the photos. And if anyone is, who cares; we are a non-judgmental community allowing people to be themselves and have their own purpose. A fully engaged Avatar has been live streaming on Facebook, adding to her story on Instagram, and Snapchatting to her followers. She has an amazing ability to keep connected with everyone here with carefree smiles and conversation, while at the same time connecting with her friends and family abroad. We see the seamless flow of a social media influencer. As for the rest of us, whether we admit it or not, we are happy to have a professional photo shoot of these moments to have and share of this blue creature event.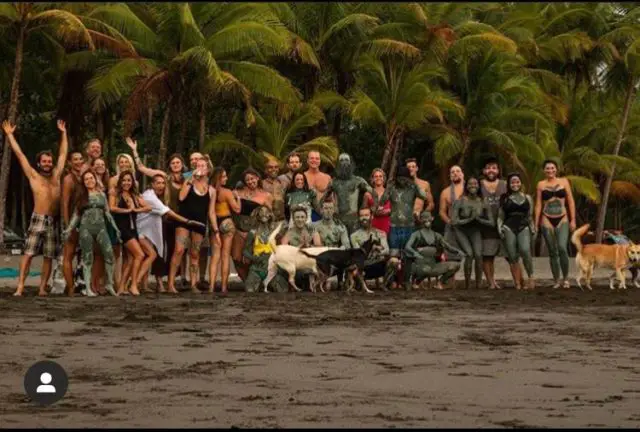 As the Vida Blue Clay dries on our skin, we head to the beach just in time for sunset. We run around the beach, act goofy, pose for more photos, and watch the sun dip below the horizon. Once dry, we rub the clay off revealing baby-smooth skin. We head back to Resonance as slightly different people than when we started. We are lighter and literally brighter from the exfoliation. And our mind is even more open to different, adventurous activities. A wonderful afternoon taking care of Mind, Body, and Soul.
Our daydream of this event ends and I am excited as ever to be part of this amazing experience. And if you're excited too, join us! You can also WhatsApp Sarah Lynn Thomas +213 392-5226