By JENNIFER KAY (AP)
CORAL GABLES, Fla. — Costa Rica's President Oscar Arias on Tuesday commended the interim president of Honduras for saying he will reverse an emergency decree suspending civil liberties in his country.
But he warned that the results of the Nov. 29 presidential election in Honduras would not be internationally recognized if it is held while interim President Robert Micheletti's government is in charge.
Arias said Micheletti's government "has not moved an inch" in negotiations to return ousted President Manuel Zelaya with limited authority.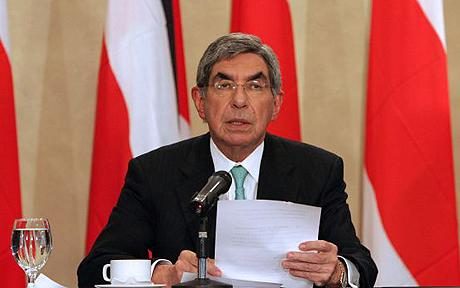 He called the June 28 coup that propelled Micheletti to power a "dramatic, historical backward step" that needs to be corrected through free and transparent elections under Zelaya's government.
"It's the assurance of the continuity of democracy in Latin America," Arias said. "The cost of failure of leaving a coup d'etat unpunished is setting up a bad precedent for the region."
Arias spoke at the Americas Conference, a business and political forum hosted by The Miami Herald.
Arias, a Nobel Peace Prize laureate, brokered a plan to reinstate Zelaya, but Micheletti's government refused to accept it. He said his San Jose Accord could be modified, but it was "the only thing on the table right now."
"You could have remembrances of a bad Latin American past, insisting on elections under these circumstances and overlooking items in the San Jose Accord," Arias said, addressing the conference in Spanish.
Micheletti said late Monday that he would accept congressional calls for him to reverse the emergency decree he had announced on Sunday. He also said he would allow an Organization of American States team, whose arrival was blocked this weekend, into Honduras. The OAS hopes to convince the coup leaders to bow to international demands to reinstate Zelaya, who was arrested and expelled from the country in June.
The interim government had said the decree suspending freedoms of speech and assembly was needed to counter calls for an uprising by Zelaya's supporters.
Zelaya has been holed up at the Brazilian Embassy in the Honduran capital, Tegucigalpa, since sneaking back into his country Sept. 21.
Arias said the June 28 coup was the result of Central America's governments spending more money on their militaries than on their schools or on fighting poverty.
Also to blame was the Honduran constitution, he said. He called it "the worst in the entire world" and "an invitation to coups."
It lacks an impeachment process, "so I imagine the only way of calling the president to account was to oust him," he said. "This is something that will have to be resolved, and the best way to do this is, if we can't have a constitutional election, is to have certain reforms so this Honduran constitution ceases to be the worst in the entire world."
Former President Bill Clinton, the U.N. Special Envoy to Haiti, addressed the conference later Tuesday.
Days before he leads a trade delegation to Haiti to encourage investment there, he called for more coordination between reforestation, storm mitigation and economic development programs in the impoverished Caribbean country. He said helping Haiti will help stabilize the Caribbean and the rest of Latin America.
Clinton also voiced his support for granting temporary protected status to Haitians living illegally in the U.S. The protection allows eligible immigrants to stay and work in the U.S. when they cannot return home because of an ongoing conflict, environmental disaster or other temporary conditions.
"I am pushing for that hard," he said, adding that his wife, Secretary of State Hillary Rodham Clinton, agreed with him. The Department of Homeland Security, meanwhile, continues to deport Haitians and discourages them from trying to reach U.S. shores illegally.